Cross-border driving ban 'may save lives'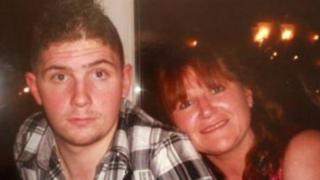 A new cross-border driving ban may save lives, says the mother of a Donegal man killed by a disqualified driver.
The new legislation means people banned on the other side of the border from where they live will have the prohibition extended to their home jurisdiction.
Shane Patton was 18 when he was killed by a car driven at speed by Eamon Lynch from Londonderry in 2012.
Lynch had already been banned from driving in Northern Ireland until 2023.
The law change gives effect to a road safety agreement signed between the UK and Irish governments in 2015.
It covers drivers banned for reckless or dangerous driving, hit-and-runs and driving while under the influence of drink or drugs.
Julie Patton, Shane's mother, said the ban was long overdue.
"If this ban had been in place, maybe (Lynch) wouldn't have been on the road that night," Ms Patton told BBC Radio Foyle.
"I hope this ban sends out a message on both sides of the border that it is unacceptable to break the law."
"Shane was our first child and he was my pride and joy," she said.
Lynch was jailed for 18 months earlier this year for killing the teenager while drunk and racing at speeds of up to 100mph (160km/h).
He had no driving licence or insurance when he crashed into Shane Patton's car in County Donegal, and was previously described as having the biggest criminal record in British and Irish judicial history.
Mr Patton, who was the eldest of three children, had just completed his school exams and was to about to train as a mechanic.