£500k bill for Northern Ireland gorse fires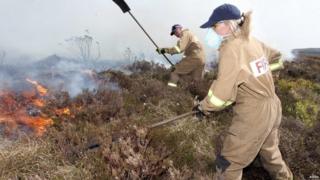 Almost 2,000 gorse fires across Northern Ireland in the first half of 2017 cost more than £500,000 to put out, officials say.
The Northern Ireland Fire and Rescue Service (NIFRS) dealt with 511 fires in one week alone as the spate of fires peaked in early May.
The vast majority of those were started deliberately, it said.
Firefighters said the spell of dry, sunny weather, had "provided a tinderbox landscape" for gorse fires.
NIFRS dealt with 1,917 gorse fires during the first six months of the year, at a total cost of £556,405.
The most costly incident was a fire at Mountfield near Omagh, County Tyrone, on 9 May - £41,000 was spent extinguishing the grassland blaze.
Two days earlier, local residents near Fivemiletown were evacuated to a community hall as fire spread through 100 hectares of forest and bogland.
NIFRS spent almost £10,500 dealing with the incident.
On 5 May, residents of Barley Lane in Newry looked on in tears as flames came within yards of houses.
More than 60 firefighters tackled the blaze, at a cost of £3,600.
The area around Downpatrick was one of the worst affected during the six-month period, with 207 gorse fires.
The figures were released following a Freedom of Information request by the Belfast Telegraph.
How to prevent fires in countryside
Make sure cigarettes and other smoking materials are fully extinguished
Never leave barbeques unattended and make sure they are fully extinguished before disposing of contents
Avoid lighting fires in open countryside
Do not leave bottles or glass in woodlands
Assistant Chief Fire and Rescue Officer Alan Walmsley said it was investigating the fires with the police and Northern Ireland's Environment Agency, as well as a team of international wildfire investigators from the European Forest Institute and European Forest Risk Facility.
"Through 'Operational Wildfire', we are working... to investigate the most recent spate of gorse fires in more depth - of which over 90% were started deliberately," he said.
Mr Walmsley cautioned that fires could also be started by thoughtless or careless behaviour.
"Both deliberate and accidental fires can cost lives and we recommend that the public heed our fire safety advice to protect themselves and our countryside," he said.