Game on for Belfast's 'IT girls'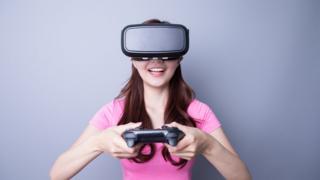 Many teenagers spend some of their summer holidays playing video games or watching TV.
But at Belfast Metropolitan College more than 30 girls, aged 15 to 18, have been learning how to make them.
The teenagers are taking part in "Belfast IT Girls" - a week-long summer camp which develops technology skills.
During the course, they learn about computer coding, how to make a video game, how to create film special effects and TV editing.
They are also encouraged to pursue a career in the industry.
Natasha Hudson wants to become a video game designer and came to the course dressed as a game character.
"Learning these core skills will help me get ahead whenever I need to get a job," she said.
"I've grown up with video games and I love playing them, and I've always found the mechanics behind them fascinating.
"It's a big part of my life and it would be a thing I'd love to do."
However, she thinks that video games would look very different if more women were involved in making them.
"In fighting games in particular women are always in a bra and pants," she said.
"Whereas with men they're in armour so you can't see skin or anything, so that's definitely something that needs to be addressed."
There has been a steady growth in the number of girls in Northern Ireland studying science, technology, engineering and maths (STEM) subjects.
However, the technology industry as a whole is still dominated by men.
'Protect the world'
According to a 2016 report from the World Economic Forum, only 24% of the global technology workforce are women.
In the UK, meanwhile, the Women in the STEM workforce 2016 survey found that only 18% of information technology (IT) professionals were women.
In addition, only 16% of computer science graduates from UK universities in 2016 were female.
According to Belfast Met tutor Louise Friel, that needs to change.
"Historically men were the predominant gender in engineering and that led into IT and computing," she said.
"But women have so much more to offer.
"We are consumers and we are creative and we have excellent multi-tasking skills, so there's no reason why women shouldn't contribute equally to the industry."
Her students echo that message.
Emily Lennon wants to work in cyber security.
"I'm actually really passionate about it because I like the idea of trying to protect someone's personal details from someone hacking it," she said.
"Women can be as good as men in technology, women can build games or build a computer.
"We can protect the world using computers just as well as men can do it."