Three-year mental health unit delay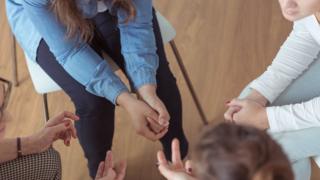 A mental health patient spent over three years awaiting discharge from an acute unit in Northern Ireland.
The 76-year-old was in the care of the Southern Health and Social Care Trust.
Over the past two years, 16 patients waited more than 100 days for discharge, BBC Freedom of Information requests show.
Five patients were delayed for more than a year, and the Southern Trust patient waited 1,235 days stranded in an acute unit.
The figures do not include the Northern Trust, which did not supply statistics.
Supported accommodation
Discharged mental health patients are often placed in supported accommodation and a lack of these facilities can lead to delays.
A spokesperson for the Southern Health and Social Care Trust said: "Trust policy ensures community-based care and treatment is put in-place as soon as possible for patients who can be safely discharged from acute mental health in-patient wards.
Patients could only be safely discharged when specialist community-based accommodation were available which meets their needs, the Trust said.
"Following the modernisation of our mental health services in recent years we do not provide statutory long term care mental health beds."
The Department of Health commented on the wider situation across Northern Ireland: "Adult mental health hospitals in NI currently have a target of discharging patients within 7 days of their being declared as medically fit".
It said that as of 31 March this target was in breach for 11 patients, the majority of which were treated in under 90 days.
"No patients were delayed for more than 365 days.
"HSC Trusts continue to develop community-based care and treatments to facilitate timely and safe discharge of patients from acute mental health wards."
In November 2016, BBC Northern Ireland reported that more than 100 patients who were due to be discharged between January and August could not leave hospital due to a lack of resources.
At the time, the former chief executive of NHS England, Lord Nigel Crisp, described the figures as "appalling".
"It is not purely in Northern Ireland, but it is worse than elsewhere. Too many people are being cared for in hospitals when actually they should be in the community," he said.