Health bodies 'serious' on vaginal meshes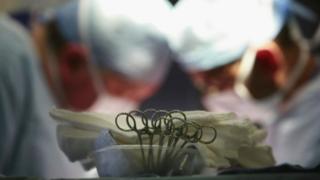 At least three letters have been sent from various NI health bodies advising recipients of the health department's stance on vaginal mesh procedures.
They follow BBC reports that a number of women felt physically and mentally scarred after having the implants.
A support group for the women has welcomed the move, but said it was sad some women had to go public with their stories to get to this point.
The letters show health authorities are taking the issue extremely seriously.
The letters from the Department of Health, the Patient Client Council and the Health and Social Care Board advise staff on how to deal with complaints.
In July, the Health and Social Care Board wrote to every GP in Northern Ireland and all five health trusts about how to manage women experiencing complications following vaginal mesh surgery.
The Health and Social Care Board's Dr Brid Farrell said the issue had taught health authorities the importance of engaging with women early in the process.
"If we look back at how things happened in the past, perhaps when women were being offered surgery they didn't get the amount of information they should have gotten at the time.
"But I think now people realise the implications and significance of complications when they happen, and women are given more information than they would have been in the past." she said.
Clinicians' workshop
The Patient and Client Council has written to one woman enclosing two copies of a draft letter of complaint to her health trust.
The permanent secretary Richard Pengelly has also written to the former SDLP MP Margaret Ritchie who raised the issue in Parliament.
He advised her that the recent focus of the Department of Health has been on addressing this issue.
Mr Pengelly also revealed that the Public Health Agency has commissioned a workshop with clinicians to consider how various aspects of care for this group of women might be improved, including consent.
Meanwhile, Susan McLarnon from the women's support group said they were receiving requests from people to join on a daily basis.
"They have been suffering in silence and when they reach us it is like a weight has been lifted from their shoulders," she said.
"This is a big, big issue."