Drugs accused Matthew Taylor denied funeral bail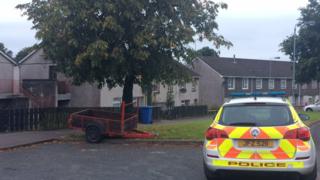 A man who admitted supplying drugs to a teenager the day before she was found dead has been refused compassionate bail to attend her funeral.
The body of Emma Doogan, 19, was found in a flat in Meelmore Drive in Omagh, County Tyrone, on Saturday.
Matthew Darryl Taylor, 24, of Meelmore Drive, was remanded in custody on Monday and faces a total of 10 charges.
They include the possession and supply of Class A, B and C controlled drugs - namely ecstasy, cannabis and diazepam.
He faces a further charge in connection with selling or supplying the prescription-only drug, Lyrica.
'Basic human decency'
On Tuesday, Omagh Magistrates Court heard the family of Emma Doogan did not want the accused to attend her funeral at Christ the King Church in Omagh, or have any part in the funeral arrangements.
On hearing this, the judge said: "That is the end of your compassionate bail application."
A defence lawyer said his client could have remained in what is known as the "crying chapel" - a room at the rear of the church, away from Miss Doogan's relatives and friends.
But the judge said: "If the family do not want him there, it is basic human decency that he does not attend, and you would expect he would respect their wishes."
Mr Taylor's solicitor pointed out that the defendant was a partner of Miss Doogan, to which the judge replied: "There is a way he could have made himself next of kin."
The bail application was refused and Mr Taylor will appear again by videolink on 5 September.