Weak pound boosts NI hotel industry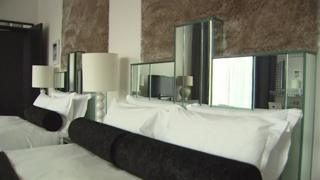 The fall in the value of the pound has helped the Northern Ireland hotel industry to a "landmark year" in 2016, an industry survey has suggested.
The annual survey, produced by ASM accountants, showed a record high occupancy rate, increased prices and rising profits.
The key measurement of revenue per room was £60.74, up 4.6% on 2015.
Belfast had "an outstanding year" with a room occupancy rate of 83.5% compared to an NI average rate of 77.9%.
Total revenues per room, which includes income from all hotel activities, soared by 15.7% to £53,363.
That suggests revenue growth across all areas of hotel operations.
City's first
Michael Williamson, director of consulting at ASM, said the devaluation of sterling after the EU referendum result in June 2016 "boosted our competitiveness".
The decline in sterling makes it cheaper for foreign visitors to come to the UK.
Mr Williamson said that, in Belfast especially, it made "a tangible difference" in the second half of the year.
However, the city was also helped by other factors including the opening of the Waterfront Hall conference centre.
There is a significant amount of hotel development taking place in Belfast, including the city's first Marriott.
Mr Williamson said this would increase the city's room supply by around one third by the end of 2019.
He cautioned that such a large increase in supply would likely mean some decline in occupancy rates from 2018.
However, he said that given the current record occupancy rates "the impact may not be severe as that experienced during the last wave of development in 2009 and 2010".