Pig's head left on Newtownards Islamic centre doorstep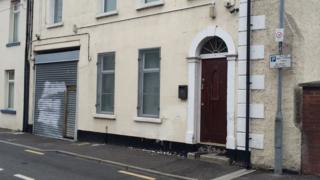 A pig's head has been left on the doorstep of an Islamic centre in Newtownards.
Graffiti was also painted on a wall of the building and the incidents are being treated as hate crimes.
Police said the pig's head was reported to them at about 23:15 BST on Wednesday and the graffiti at about 01:00 BST on Thursday.
DUP Councillor Stephen McIlveen described what happened as "absolutely despicable".
He added: "The people who go to this centre are our friends, our colleagues, our neighbours and they're people who are fully integrated into this community
"I'm sure the whole community would join me in condemning what has happened."
He said he had spoken to some of those who attend the centre.
"They're clearly upset about what has happened and there's a sense of worry that goes on when something like this happens," he said.
"But they know how welcome they are in this town, they know the support they have in this town and the support they have from their neighbours in the church next door."
Alliance's Strangford MLA Kellie Armstrong said she was "disgusted" by the incidents.
"Those who carry out such hate crimes seek to drive a wedge between people here by heightening racial and religious tension," she added.
Police have appealed for anyone with any information about the incidents to contact them.