Peter Robinson spoke of Union concerns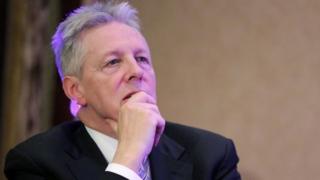 The former NI First Minister Peter Robinson told a British civil servant that people he spoke to felt the Union was finished.
The revelation is disclosed in official papers released by the Public Records Office in Belfast.
Mr Robinson's remarks were made when he was DUP deputy leader in 1991.
The papers also reveal the British ambassador in Dublin regarded Taoiseach Charles Haughey as a conspiracy theorist.
The details are contained in previously secret government documents released by the Public Record Office of Northern Ireland.
At one meeting in 1991, Mr Robinson said all British governments and potential governments had made it clear the Union was finished, adding that most Protestants to whom he spoke to knew that.
While he said he did not favour independence, Mr Robinson said people in the Protestant community were increasingly focused on it.
At the time, there was mounting IRA and loyalist violence and little political progress.
The files from 1988 reveal that the Taoiseach Charles Haughey did not want the bodies of three IRA members shot dead by the SAS in Gibraltar to be brought to Belfast through the Republic of Ireland because this could be a propaganda coup for Sinn Féin.
He wanted the Royal Air Force to fly their remains straight to Belfast, a move that was rejected.