Medical bodies criticise health cuts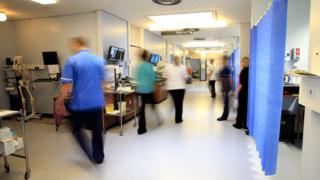 Medical Royal Colleges, which represent medical professionals in Northern Ireland, have called for urgent action on health reform.
It comes after NI's five health trusts unveiled plans to make £70m of cuts.
In an unprecedented move, the proposals announced on Thursday are being opened to public consultation.
The colleges said that to improve services and deliver transformation, the health budget must be spent strategically.
A former head of the Health and Social Care Board said the proposed cuts would increase waiting times, reduce available bed numbers and hit community care.
"Northern Ireland has the worst waiting times in the whole of the UK, and the proposals yesterday will only make that worse," said John Compton.
'Stronger voice'
The joint statement from the Royal Colleges, with representatives from eight medical branches around the UK, described the current situation as "unsustainable".
"On behalf of medical professionals across Northern Ireland, we call on political leaders to hear our concerns and take urgent action to address them," it said.
This is the first time Royal Colleges have taken a united stance on Northern Ireland's health crisis.
Explaining the move, Grainne Doran, chairwoman of the Royal College of GPs, said: "We've come to a stage where the impact across the board was such that the colleges felt the need to have some form of stronger voice.
"We're bound by old budgets and by the ability to make cuts but not to make investment.
"If we had a health minister in place, they should be able to make those decisions.
"Whether it's a direct rule minister, or a Northern Ireland assembly minister, we need to have a minister in place.
"If the assembly feel they can't get moving on from where we are, then realistic decisions need to be made."
The trusts have been asked to save:
£26.3m - Belfast Health Trust
£13m - Northern Health Trust
£12.5m - Western Health Trust
£10.85m - South Eastern Health Trust
£6.4m - Southern Health Trust
Each of the trusts made their plans independently, but similar themes are apparent, such as the reduction of agency or locum staff and a reduction of non-urgent elective surgery.
The Belfast Trust proposals could mean the closure of about 100 bed places while the Northern Trust has also suggested closing two wards in Whiteabbey Hospital.
The proposals could be reversed should the Stormont government return and a health minister be appointed.
The power-sharing institutions collapsed in January after a dispute between the DUP and Sinn Féin over a botched green energy scheme.
Despite rounds of negotiations, Northern Ireland has remained without a devolved government, or a health minister, since then.
Public meetings took place on Thursday at Knockbracken Healthcare Park in Belfast, Craigavon Hospital, Ulster Hospital, Antrim Area Hospital and Altnagelvin Hospital.
The public are now being given the opportunity to comment on the draft savings during a six-week consultation.
The Department of Health said the "financial challenge remains significant due to inflation, an increasing and ageing population and the cost of new treatments and patient expectations".
"The Health and Social Care service cannot spend money it does not have and savings must be applied to this year's budget in order to achieve financial balance in 2017-2018."