Ashbrooke Care Home residents 'want to stay' despite safety issues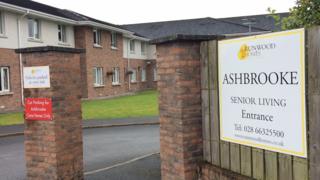 Some residents of a care home that posed a "serious risk to life" say they want to keep the home open, the company which runs it has said.
The Regulation and Quality Improvement Authority (RQIA) closed down Ashbrooke Care Home in Enniskillen last week.
The issues uncovered included dirty facilities and a strong odour of faeces and urine.
There was also no evidence of action taken to address substantial weight loss in some residents.
But Gavin O'Hare-Connolly, from Runwood Homes Limited, which operates the home, said some residents want it to keep the facility open.
He apologised to residents, their families and the staff for the management failures he said had resulted in the action to close the home and added that advisers had been asked to explore all possible legal options for keeping the home open.
"In a meeting at the home last night, families said they fully supported our decision to work with the Western Trust and RQIA to retain a residential facility at Ashbrooke," he said.
"They asked me to underline that despite recent issues, they are satisfied with the care their loved ones have received and the dedication of our staff."
"My focus now is to respond positively to requests from our Enniskillen families to continue caring for elderly residents in their own community," he said.
"This is a duty and responsibility we take very seriously and we will explore every avenue to try and make that happen."
Many of the 43 residents have been placed in Ashbrooke by the Western Trust. They are currently working to find alternative suitable accommodation.
At least one resident has already left the home and more are expected to be moved on Friday.