Belfast: Two women and two young children rescued from fire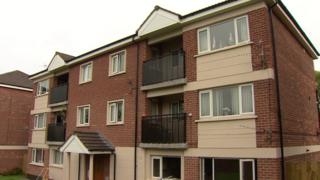 Two women and two young children have been rescued from a fire in east Belfast.
The blaze was started deliberately at flats at Rosewood Park, Castlereagh, shortly after midnight. Police said flammable liquid had been poured over the front door of a flat and set alight.
A passer-by spotted the flames in the hallway and raised the alarm.
A pregnant woman and her partner in one flat escaped through a window.
The women and children were rescued by firefighters from their balconies on the first floor.
One of the downstairs flats was unoccupied but its windows had been boarded up following an attack a few weeks ago. It is understood a foreign national had been living there.
Fire chief Brian Stanfield said people could have been killed in the blaze which began at about 00:40 BST.
"Heavy smoke and a fire in the main entrance hall was preventing the occupants from escaping," he said. "Our control centre was on the phone to the people in the flats and moved them out to the balconies.
"When we arrived, the fire service put ladders up and rescued the people."
PSNI Detective Sergeant Kelly said the flat targeted in the attack had been empty.
"We are treating the incident as arson with intent to endanger life and would appeal for anyone who witnessed any suspicious activity in the area to get in touch with detectives at Musgrave," he said.
One of the residents said she was awoken by people shouting a warning from the ground floor.
"They said to get out of the building. The front door and stairwell were full of smoke. I shut the door and went out on to the balcony," she said.
"A fireman came and stood with me while they sorted the fire out. The girls with children were a bit panicky which is understandable."
The woman said there was only one way out of the flats and that was where the fire was.
"It's attempted murder," she said. "They know people live here and there are children here. They really should be ashamed of themselves."