Woman drowns in Lough Erne incident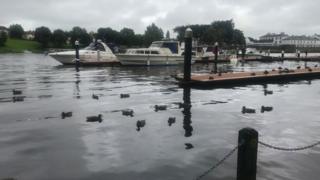 A woman has drowned in Lough Erne in County Fermanagh.
Two people were pulled from the water at the Round 'O' Jetty in Enniskillen in the early hours of Saturday morning.
A man, who was taken to South West Acute Hospital, had gone into the water after the woman, the Ambulance Service said. He has since been discharged from hospital.
Rodney McCrea, who witnessed the incident, told BBC News NI he was "shocked" at what had happened.
"It was about a quarter past three in the middle of the night and my wife and I heard a very high pitched squealing sound," he said.
"We were looking out of the boat and we saw lots of people coming and going, then we saw one person being stretchered away.
"We have been boating for about 15 years now and I have been aware of a fair share of incidents. "I have pulled three or four people from the water.
"It just reinforces to us the fact we are so hyper about safety on the boat and our children."
Ulster Unionist MLA, Rosemary Barton, praised the "member of the public who raised the alert".
"I extend my deepest sympathy to the family of the lady who died as the result of a boating tragedy in Enniskillen," she added.
"It is very sad that something like this should happen on what should be a fun time for families over the bank holiday weekend."
The coastguard, police and fire service attended the incident, which occurred just before 03:00 BST.
The coastguard said the man and woman had already been recovered from the water by the time their crew arrived.
The Round 'O' Jetty is a popular departure point for water bus tours and pleasure boat hire.