Rathlin Island offers much more than just puffins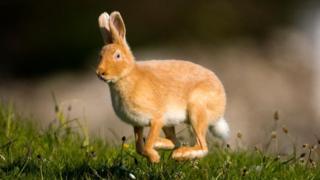 The puffin population on Rathlin Island has been drawing nature lovers there for years.
But the 150 human residents of Northern Ireland's only inhabited offshore island share the isle with many species of wildlife - many unique to Rathlin.
Tom McDonnell is a nature photographer who's been living on the island for 12 years.
He was born in Belfast, but moved to Antrim with his family after the outbreak of The Troubles.
"In the 1980s, I started to do daytrips to Rathlin and as time moved on, I began to think I could live in this wee peaceful place," he said.
Tom's passion for photography has taken him all over the world, but he keeps coming back to Rathlin.
"For such a small island, it's got loads of wildlife, especially during the summer with the seabirds, there's up to 250,000 of them," he said.
"Most people come here for the puffins but there's lots more besides them, lots more rare birds, dolphins and I photographed a minke whale not so long ago."
One of Tom's favourite places to photograph on the island is Ushet Port.
From there you can see Rue lighthouse and straight across, Ballycastle.
"Not that many people go down there but there's a big colony of common and grey seals," he explained.
"The grey seal has the longer snout and the common seal has a rounded face - more dog-like features. Personally I prefer the common seal, they're a very attractive-looking seal, as seals go.
"It doesn't matter what weather comes at them, they enjoy lying out on the rocks.
"You can get very close to them, they will actually come up to you, you don't have to even do too much.
"They are very inquisitive. They're thinking, 'Who are you and what are you doing on our patch?' They're having a wee nosey."
Tom does have a few favourite subjects on the island.
"I like the seals and the puffins because they're so colourful," he said.
"They're not a shy bird so they're easy to get close to.
"There's a good population of Irish hares here and we have the golden hare that's unique to the island, I call it the blue-eyed hare.
"It's a strange animal actually when you see it close up.
"It gives me a wee tingle I must say when I see it, because of the blue eyes you start to almost think it could be human in a way."
But it is not just wildlife Tom loves to photograph on Rathlin.
Heather is in full bloom at the moment, carpeting the island in purple and yellow.
It's a colour scheme so beloved by islanders that one resident is painting his new home purple and yellow to match the heather.
"We have plenty of rare plants on Rathlin," Tom said.
"There are at least four species of orchid but one of the rarest is the pyramidal bugle which is only found in two places across Ireland - here and in The Burren in county Clare and it's beautiful - beautiful and rare."
Tom waits hours or even days at a time to get the perfect shot and he said that when picturing Rathlin's wildlife, patience was required.
"I might wait out for 10 or 12 hours and nothing has happened, and I've had to do that again for maybe three or four days so it is very difficult but the joy of it is the anticipation of getting a really good shot," he said.
"You hope you're going to get something that's pleasing to yourself and to other people.
"It's very difficult at times, but when you get what you're after, or something even better sometimes, well then it's very rewarding too."