Londonderry drinking water checked after dump floods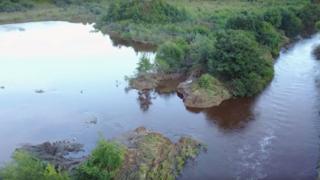 Extra checks are being made to ensure that flooding at a huge illegal landfill has not contaminated the river that supplies a significant proportion of Londonderry's drinking water.
The River Faughan burst its banks in the storm last Tuesday.
The flooded river covered parts of the site near Mobuoy on the outskirts of Derry.
The illegal dump is believed to contain up to a million tonnes of domestic and commercial waste.
NI Water stopped taking raw water from the river on the night of the storm after the deluge damaged equipment at its pumping station there.
Alternative water sources were used to maintain supply to the city.
The company hopes to resume taking water from the river after repairs in the coming days.
Both it and the Northern Ireland Environment Agency (NIEA) have stepped up water sampling on the river and the Mobuoy site respectively.
NI Water said its tests so far showed no impact on water quality.
Measures were put in place to prevent contaminated run-off from Mobuoy reaching the River Faughan when the scale of the illegal dumping there was identified a number of years ago.
But, last week the river burst its banks and flowed through part of the affected area.
'Immediate response'
It is expected that the additional checks will be continued for several weeks.
"Any water which may have come into contact with the old landfill site and washed back into the river will have moved very quickly downriver and would not therefore be an issue for the abstraction point," said a spokesman for NI Water.
A spokesperson for the NIEA said staff had been sent to the dump as an "immediate response" to the flooding.
The situation continued to be monitored "with a sampling programme under way".
It is believed the NIEA is also monitoring the impact on the river of a number of vehicles, dead livestock and pollution from flooded industrial sites in the area.
Regular testing of the treated water from the Faughan in recent years has shown it complies with drinking water standards.
Meanwhile there have been calls for a hardship scheme for farmers who have lost livestock or had land affected by the recent flooding.
Reassurances needed
Sinn Féin's agriculture spokesman Declan McAleer will lead a party delegation to meet the permanent secretary of the Department of Agriculture, Environment and Rural Affairs (DAERA).
He has already raised the issue of farmers in the Sperrins whose homes and farms had been damaged by the storm.
A similar hardship fund was made available after heavy snow in 2013.
Mr McAleer said farmers also needed reassurances that farmland affected by landslides and flooding would still be eligible for subsidy under EU rules.
The department has advised farmers affected to submit an exceptional circumstances claim to ensure such areas continue to be eligible for payments.
Farmers have 15 days from 22 August - the day of the storm - to submit their form.