PSNI investigated over 'inappropriate tweets'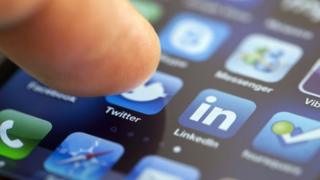 A number of police officers or support staff are being investigated over claims of inappropriate use of Twitter.
The PSNI has confirmed that an inquiry into accounts from individuals claiming to be police officers is under way.
"All allegations will be investigated and firm action taken if (they) are substantiated," said a statement.
"The PSNI will not accept any racist, sectarian, sexist or homophobic behaviour from any of our staff."
'Dry your eyes' apology
Earlier, Assistant Chief Constable Mark Hamilton, who is responsible for professional standards, said police were "examining material posted on personal social media accounts by a number of individuals and are undertaking investigations to establish if the individuals are all serving officers.
"At this stage it would be inappropriate to provide responses to queries raised in relation to one individual."
In a statement, the Police Federation for Northern Ireland said it would "urge our officers to exercise great care and caution in their use of all social media platforms".
"There are dangers and pitfalls," said the statement. "There is also still a 'severe' threat to our officers and it's essential for their own safety, and the safety of their colleagues, that offices realise the risks and take all necessary precautions to avoid unnecessary attention."
This is not the first Twitter scandal to hit the PSNI: Last August, Chief Constable George Hamilton apologised for tweeting that an officer should "dry your eyes" after the individual raised concerns about working conditions.
Meanwhile, police are also investigating claims that Alliance Party leader Naomi Long has been trolled by a serving police officer.
One of the accounts being investigated allegedly posted her personal details.
A spokesman said the party had reported the account to police.
The Alliance leader is currently taking time away from politics as she undergoes treatment for endometriosis - a condition in which tissue that normally lines the inside of the womb grows outside the uterus.
'Honey trap' warning
A former senior PSNI official said on-duty police officers have a job to do and should not be wasting time on social media.
Former assistant chief constable Alan McQuillan urged against a blanket ban on officers using Twitter, saying it could be helpful if used sensibly.
"Twitter can be incredibly useful for people to engage with people in the community," he told BBC News NI.
"But... if there are criminal offences or serious discipline issues being committed then they have to be dealt with."
Mr McQuillan also warned that PSNI officers needed to be mindful of their own safety when using social media - and to be cautious of potential "honey traps".
"(Officers) need to know who they are talking to, they need to know who they are disclosing information to, they need to make sure they are not being manipulated," he said.