Lough Erne safety calls after woman drowns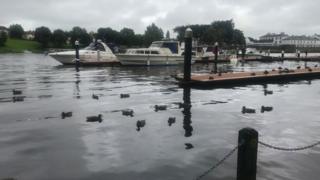 Calls have been made to tighten safety regulations for people who are out on the water in Northern Ireland after the death of a woman at the weekend.
The woman drowned in Lough Erne in County Fermanagh in the early hours of Saturday morning.
It is not known whether she was wearing a life jacket, which is not currently a legal requirement in Northern Ireland.
Politicians have joined calls for the wearing of life jackets to be made compulsory.
Mother-of-two Luna McKinney, 35, drowned in the lough in April having fallen overboard without a life jacket.
In the Republic of Ireland, lifejackets must be worn on any vessel less than 7m in length.
Ulster Unionist Assembly member Rosemary Barton said "gallant attempts" were made to rescue the woman when the alarm was raised at about 03:00 BST on Saturday.
"It is time for tighter regulations in relation to what people wear on boats," said Ms Barton.
"Life jackets should be compulsory."
Mrs Barton also suggested wearing non-slip footwear should be a requirement and urged people to respect the dangers which exist around boats and the water.
SDLP councillor John Coyle, supported the calls for life jackets to be made compulsory.
"It should always be at the front of people's minds about safety on the water," he said.