Daniel O'Donnell to lead country stars in 'Flood Aid'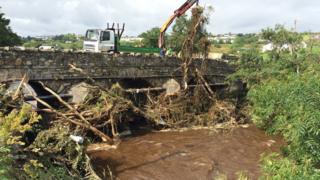 Daniel O'Donnell is to play a benefit concert in aid of people in Donegal who were badly affected by torrential rain earlier this month.
He will join a host of fellow country singers, including Nathan Carter, in 'Flood Aid for Inishowen', in Letterkenny on Sunday.
It is estimated around 200 homes were affected by flood waters in Donegal.
Six main bridges and many smaller ones as well as numerous stretches of road were damaged.
Soldiers from the Irish Defence Forces were sent to the area to help clean up both public and private properties.
More than 100 people were rescued from cars and houses in Donegal, Tyrone and Londonderry after 63% of August's average rainfall fell within nine hours.
Speaking on a video posted on his Facebook page Mr O'Donnell said: "I'm sure like myself you are all shocked and horrified but thank God nobody lost their lives.
"As well as the money raised we hope that the people of Inishowen will derive some sort of comfort from this show of support and that their plight is being heard."
Declan Nearney, Johnny Brady, and Dominic and Barry Kirwan will also take part in the event at the Aura Leisure Centre.
All of the artists have offered their services free of charge. All proceeds, after costs, will go to the Red Cross.