Newtownards residents return home after gas leak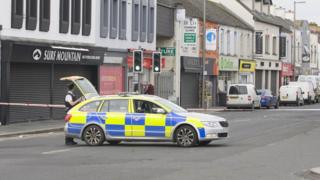 Residents have returned to their homes after a gas leak in Newtownards, County Down.
Emergency services were called to Miller House apartments on Regent Street shortly after 08:30 BST on Tuesday.
It is understood a gas main in the area had been damaged by ongoing road works and homes were subsequently evacuated. Engineers have now fixed the problem.
The road was cordoned off for a period but has now been reopened to traffic.
Claire Donnan and her husband, Kearon, who called the fire service, were among those moved out of their homes.
"We were lying in bed and the alarms went off," she said.
"I just grabbed my neighbour's kids and had to run down the stairs with them. There was a lot of panic.
"We tried to get the kids out as soon as we could and we covered their mouths so they didn't breathe in the gas.
"One of them had a heart problem and one had asthma, but they were assessed and they were ok."
In a statement, Phoenix Natural Gas said: "The damage incurred to the pipeline was due to the actions of a third party contractor and was not in any way caused by or related to the operations or conduct of Phoenix Natural Gas.
"Engineering teams responded to this incident and repaired the pipeline, working alongside the emergency services to make safe the area."