McCarragher jogger death accused 'evading police'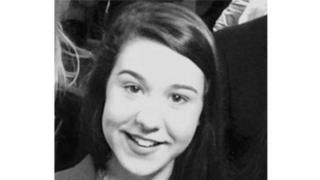 A man charged with causing the death of a jogger by dangerous driving is actively evading police, a court has been told.
Lesley-Ann McCarragher, 19, died last April after being hit by a car on the Monaghan Road in Armagh.
Nathan Finn, 18, from the Keady Road in Armagh, has already been charged with causing her death.
However, earlier this month a court was told that a second man also accused of causing her death could not be found.
On Tuesday, a detective sergeant told Armagh Magistrates Court that a European arrest warrant was in the process of being finalised in respect of the second man, whose name can not be released for legal reasons.
Mr Finn, who is also accused of causing Miss McCarragher's death whilst having no driving licence, was present in the court.
However, a prosecution lawyer said the committal hearing to transfer the case to trial at crown court was not in a position to proceed, due to the continued absence of the co-accused.
"I appreciate the distress this is causing the family, but in the interests of justice it is appropriate to send both men for trial together as opposed to splitting them up," said the lawyer.
'Remains at large'
She then called the detective sergeant to the witness box to outline the current status of the case.
Referred to in court simply as "the co-accused", the detective said: "This man is actively evading police and not making himself available.
"Despite extensive, valiant efforts to apprehended him, he remains at large."
The detective said the arrest warrant - which was in the process of being granted "as a matter of urgency" - would enable the details of the co-accused "to be circulated widely and allow his arrest on sight".
A district judge told the court: "It is very regrettable as there cannot be further delay without further distress.
"I am confident all is being done which can be done to expedite this matter."
The overall case was adjourned for a fortnight to monitor the status of the European arrest warrant, and in preparation for Mr Finn to seek an amendment to his current bail terms, a petition which is to be opposed by police.