Northern Ireland floods: Calls for hardship fund for farmers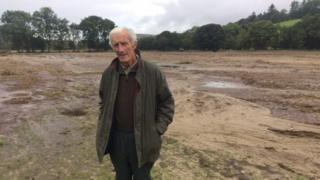 Farmers in a County Tyrone valley have appealed for help to clear land devastated by last week's storm.
Huge landslips on the slopes of the Glenelly Valley deposited large volumes of silt and rock across a swathe of farms near Plumbridge.
It is estimated that at least 50 ewes were lost when sections of a hillside collapsed.
The clean-up cost is expected to be substantial and there have been calls for a hardship fund to be established.
Dan Gormley, 77, said he may never see his farm restored to what it was.
He estimates that a quarter of his farm of several hundred hectares has been affected.
In some places, roads were washed away as hundreds of tonnes of mud and rock slid down the mountainside.
Some of the most fertile land alongside the Glenelly River has been badly damaged.
Channelled by streams, it ended up in the Glenelly River which overflowed its banks strewing silt, rocks and trees on farmland all along its course.
Sheep farmers on the mountain have also lost important grazing grounds.
Carcasses of ewes washed away by the floods have still to be located.
Fund call
Sinn Féin's agriculture spokesman Declan McAleer said a special fund should be established to help with the cost of the clean-up.
He is to meet the permanent secretary of the Department of Agriculture and Environment to push the case for it.
Gerard McCullagh has been farming in the valley for 50 years.
He said that he had never experienced anything like the destruction before.
He has lost some livestock and about eight acres of his best land is covered in boulders.
He said he does not know where to begin with the clean up or what to do with the rubble littering his land.
Farmers have expressed concern that with land out of action, it may not be eligible for EU subsidy payments.
The Department of Agriculture has advised farmers affected to submit an exceptional circumstances exemption form which should mean it will continue to be eligible.
The deadline for the forms is September 14th 2017.
Mr McAleer said many farmers were still in shock or dealing with the aftermath of the incident.
He pointed out that some were elderly or had access to only patchy internet.
He said the department should consider sending officials with hard copies of the exemption forms to make sure no one eligible misses out.
It is understood the department will have officials on the ground in affected areas next week to offer advice.