Terror marine Ciaran Maxwell's parents 'horrified'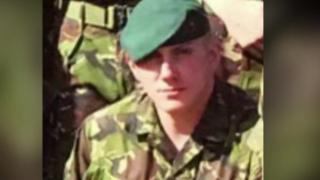 The parents of a former Royal Marine who made bombs for dissident republicans have said they are "horrified" by what he has done.
In July, Ciaran Maxwell, from Larne, County Antrim was jailed for 18 years.
The judge said he had been motivated by hostility to the United Kingdom and had betrayed his position in the armed forces.
He said Maxwell, 31, was "dangerous" and threatened the political stability of Northern Ireland.
Maxwell lived in Exminster in Devon before his arrest and was based with 40 Commando in Taunton, Somerset. He never served in Northern Ireland.
His parents, Teresa and John, gave a statement to UTV's Up Close programme and said they "utterly condemn" his actions.
"We are in deep shock and cannot comprehend it," they said.
"We fully supported his decision to join the Royal Marines and were so proud when he achieved it.
"We have only known Ciaran as a loving son and a loving father who had a very bright future ahead of him.
"This makes what he did so difficult to understand.
"From an early age Ciaran was taught the difference between right and wrong and he crossed the line.
"The extent of his criminality is devastating and horrifying.
"We were completely in the dark about what Ciaran was doing and still ask ourselves why.
"Ciaran is our son but he is responsible for his own actions and he has been held accountable."
According to the charge details, he had a stash of explosives in 12 purpose-built hides in England and Northern Ireland.
In one of his hides, Maxwell placed a modified booby-trapped torch which, when armed, would explode if turned on.