Padraig McShane sentenced over Orange Order parade offences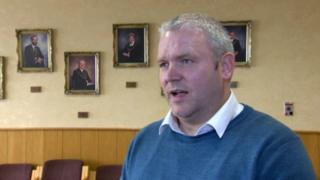 An independent councillor who assaulted a police officer at an Orange Order parade has been given a suspended prison term.
Padraig McShane of Beechwood Avenue, Ballycastle, was arrested in July 2016.
McShane was found guilty of assaulting a police officer, resisting police, disorderly behaviour, organising and taking part in an un-notified parade in Ballycastle on 12 July.
He was given a suspended six-month prison sentence.
The main confrontation took place in Ballycastle's Diamond area, where the member of Causeway Coast and Glens Council traded insults with members of Dervock Young Defenders band.
Police described him as being "aggressive and confrontational", but a court heard members of the band had also been aggressive.
When police intervened, McShane, 45, assaulted an officer, pushing him to the ground.
He then kicked out as police arrested him.
Earlier this year, other protesters were fined £200, while a band supporter was fined £150 for making an offensive gesture.
'House burnt down'
McShane's solicitor said that at the Ballycastle parade, his client had "on the whole and in the main acted as a calming influence".
He added: "What happened could best be described as a loss of composure following significant provocation."
The solicitor said a member of the band had spat on McShane and others taunted him about his house being burnt down.
The judge noted that McShane had not come to police attention since July last year.
He said: "Context is everything.
"The disorder of Summer 2016 was thankfully not repeated in Summer 2017."
He was sentenced to four months for assaulting a police officer, two months for resisting police and two months for disorderly behaviour - each term was suspended for three years and is to be served concurrently.
He also sentenced him to two months for organising an un-notified parade and one month for participating in an un-notified parade.
Those terms were also suspended for three years to be served concurrently with each other but consecutively to the other sentences - meaning McShane received a total of six months suspended.
The judge said that if McShane had pleaded guilty instead of contesting the charges against him, he would have got a lesser sentence.
He was released on bail pending appeal of both the conviction and his sentence.