Hummer and plane in crime proceeds auction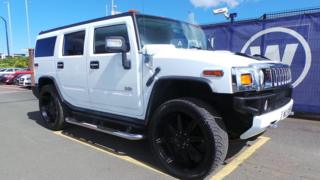 Ever fancied owning a yacht, a plane, a Rolex or even just a bottle of really expensive bubbly?
Wilsons Auctions in Belfast held a government auction on Thursday with a range of luxury items.
All of the goods were seized by law enforcement agencies in the UK and Republic of Ireland.
The auction was unreserved, meaning no minimum bids were required on any item.
Highlights from the auction were: -
A fixed-wing single-engine Cessna 172RG plane which sold for £20,500
A Porche Cayenne was snapped up for £25,000
Delfino, a 16.6m motor boat that sold for £122,000
A Hummer H2 estate which went for £12,200
Fifty designer watches went to the highest bidder, as well original paintings by the Bristol artist Anthony Amos.
At the more affordable end of the spectrum were a 1993 bottle of Louis Roederer Cristal champagne, a Sony Playstation 4 and a selection of Apple products including Macbooks and iPads.
Anyone thinking of bidding for the aircraft would have been relieved to know they would not have to fly it home on the night - Wilsons have suggested they may fly its new owner to the airfield where it is being stored.
Wilsons Auctions is the contractor for police and law enforcement agencies across the UK and for An Garda Síochána (Irish police) in the Republic of Ireland.
Aidan Larkin, the group's asset recovery manager, explained the repossessed items were originally bought with "ill-gotten gains" which were "sometimes the proceeds of crime".
"Everything we sell in the unreserved government auction comes to us directly from a law enforcement agency or a liquidator," Mr Larkin told BBC News NI.
All of the money raised at the auction goes back into the public purse.
He added that 99% of the lots were from proceeds-of-crime cases or confiscation orders.
"The asset isn't in anyway tainted, it is simply being sold off to pay a debt to the UK government or the Republic of Ireland government," said Mr Larkin.
He added that while there can be some "fun and excitement" with this type of auction, it is a serious business, as often the proceeds of the sales have to go to an identified victim of crime or the Treasury.
"It's our responsibility to... ensure that we get the best selling price, but if people keep their wits about them, sometimes there is a bargain or two to be had," he said.