Sunflowers sown for cancer patients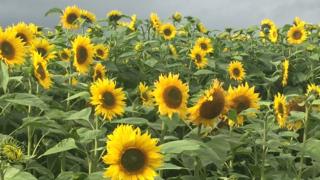 It is a big, golden eyeful to warm the heart.
The ghost of Vincent van Gogh steps lightly through a field of giant yellow sunflowers dancing in a Tyrone breeze.
Sunflowers are not the crop of choice for farmers working the fields on the road between Ballygawley and Omagh.
This may not be sun-kissed Provence, but turn up the car heater, dream a little and you could be there.
The sunflowers come courtesy of Allan Rainey - a councillor for the Ulster Unionist Party in West Tyrone.
A box left at the side of the field informs visitors that they are more than welcome to pick a bunch of flowers and leave a donation for Cancer Research UK.
Field of flowers
It is a charity that has a special place in Allan's heart. His wife, Bertie, died from the disease in 1998, but not before she had helped raise thousands to give others hope.
She was a member of the Ballygawley Cancer Research committee.
"In one special year, she helped to raise £20,000 for cancer research," Mr Rainey told BBC News NI.
His daughter-in-law, Thelma Rainey, followed in her footsteps and has been on the same committee for nearly 20 years.
This year, she asked if they might put up a sign at the field of flowers and encourage people to donate.
"Yesterday alone there was £120 in the box. I am a little shocked at how it has turned out," said Mr Rainey.
"People leave lots of little messages in the box too to say how wonderful the flowers are and telling us to keep up the good work."
It was Thelma Rainey's teenage daughter who came upon a message that touched all their hearts.
"It said: 'For the attention of Vincent van Gogh.
"Lovely idea and great work. Keep going for 2018. Former cancer patient, nine years clear.'"
"That note made it for all of us," said Thelma Rainey. "My youngest daughter found it and she said: 'Mum, this is what it is all about.'"
Gallon of seeds
For Mr Rainey, planting sunflowers began five years ago as part of an environmental project that brought together children from across the Tyrone community.
He planted a strip at one cousin's field and, in more recent times, in another cousin's field at Clogherny Road.
Each Spring, he buys a gallon container load of sunflower seed and sets out to sow them.
"They grow vigorously, if there are any weeds they would choke them out," he said.
"Next week we hope to have Roscavey, St Matthew's and Seskinore primary schools down to see them and observe the insects who feed off them."
There is a month's window in which to view the sunflowers in their full glory. Brides come in their white dresses to be photographed among the blooms.
Mr Rainey points out that it is not all his doing and little of the glory of the project belongs to him.
The children of Tyrone shall be taught about the sunflowers, the insects, the seeds and how they help the birds survive the winter.
Another kind of seed has also been planted - an awareness of cancer research and the hope, like the bright smile of a sunflower, that it offers for the future.