Larne: 'Forgotten men' take rightful place on MV Princess Victoria memorial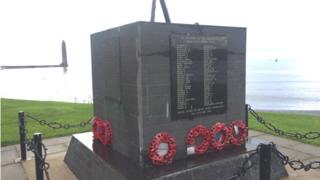 Two men are to be recognised as victims of the MV Princess Victoria disaster, 64 years after the tragedy.
More than 130 people lost their lives when the cross-channel ferry sank on a voyage between Stranraer and Larne in January 1953.
Historian Liam Kelly has identified the names of the two men as Gordon Wright and Thomas Saunders.
Mr Wright was found to have been listed among service personnel who died in the tragedy.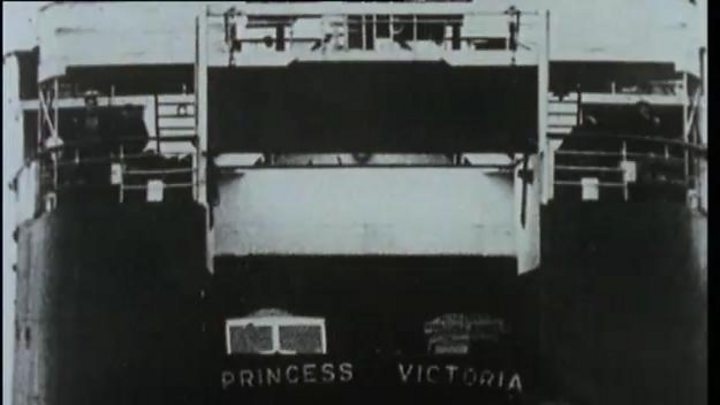 Mr Saunders, an English airman, was mentioned in a newspaper article in which his family said he had been returning to barracks after a home visit when the ferry sank.
The Ulster Historical Foundation was commissioned to research both men's names and investigate whether further information about them could be obtained.
They discovered paperwork that confirmed both men died at sea on 31 January 1953, the date of the Princess Victoria disaster.
The names of the two men will now be added to a memorial in Larne commemorating the tragedy.
Mr Kelly told the BBC that he is satisfied that the record is now being corrected.
"It's so important to have their names added to the memorial because everyone else who perished has been recognised. It's unfortunate that both servicemen missed out originally."
At Tuesday night's meeting of Mid and East Antrim Borough Council's Operational Committee, elected members recommended that the men's names be added to the memorial in Larne.
The recommendation will be brought before a full meeting of the council for ratification.
Mayor of Mid and East Antrim Paul Reid said: "I welcome this move and the fact that the names of Mr Wright and Mr Saunders are set to be added to the memorial commemorating this awful tragedy."
He said: "The sinking of the Princess Victoria devastated families and communities here, in Stranraer and further afield.
"More than six decades may have passed, but the pain and sense of loss is still felt.
"I thank Mr Kelly and the Ulster Historical Foundation for all their hard work."
Mid and East Antrim Borough Council will also share the findings with their counterparts in Dumfries and Galloway, so that they can consider adding the men's names to a similar memorial in Scotland.
Annual services of remembrance take place at the memorials in Larne and Stranraer on the anniversary of the tragedy.