Police urged to set up specialist 'missing persons' unit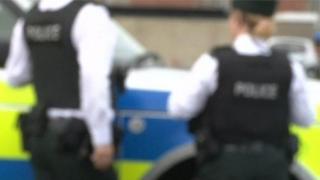 The Police Ombudsman has called on the PSNI to set up a specialist unit to handle missing persons investigations.
Over the past seven years, 55 police officers have faced disciplinary action for failings in the way missing persons cases were handled.
The PSNI receives more than 13,000 missing persons reports each year.
Only six cases have been referred to the ombudsman for investigation since 2010.
But a new report said lessons from those investigations have not been learned.
The report published on Thursday outlines the findings of an investigation into how police responded to reports that a Chinese national was missing.
The body of Geng Feng Shi, 23, was found on 27 March 2015 in the River Lagan at Belfast Harbour.
The report said investigators established that although it was likely that Mr Shi was dead by the time he was reported missing, the way police responded to concerns about him included some common failures.
The authors cited failures to properly assess missing person reports, failures in supervision and searches and missed evidential opportunities.
"I am aware that the PSNI get on average 13,000 reports of people missing each year, very few of which are referred to my office," said the ombudsman, Dr Michael Maguire.
"Yet some of the failings we identified in 2010 were still happening in 2015, which represents a real risk to public confidence in the way police deal with missing persons investigations.
"Many of the officers we spoke to have talked of the difficulties in balancing the resources needed in responding to missing person reports with those for other urgent enquiries.
"Police officers have to carry out proper risk assessments in each case if there are to be effective investigations."
Dr Maguire has urged the police to rethink how they handle missing person investigations.
"I have made a number of recommendations which might help improve things," he said.
"These include that the PSNI should consider establishing a central resource which would offer specialist assistance to officers across Northern Ireland."
Concerns have also been raised by the Chinese Welfare Association for Northern Ireland, which liaised with Mr Shi's family and organised the repatriation of his body back to China.
The PSNI has said new guidelines for police officers and staff were issued after this case.
The ombudsman's report reveals that PSNI officers had been called to deal with Mr Shi twice within 24 hours shortly before his family raised concerns about his whereabouts.
On both occasions, he was taken to the Royal Victoria Hospital for treatment but was discharged.
The day after his second visit to hospital, 5 March 2015, police received a phone call from Mr Shi's family in China reporting that they could not make contact with him.
They told police that they feared his mental state was "not normal" and were concerned for his safety.
Although his family and the police did not know it, Mr Shi was no longer alive. Police believe he entered the River Lagan the previous day.
But the Police Ombudsman criticised the response to his family's call and the failure to list him immediately as a "missing person".
"This decision was a fundamental failure, given PSNI guidance. It resulted in an unacceptable delay in police undertaking proactive and robust enquiries," said Dr Maguire.
"Geng Feng was most likely dead by the time he was first reported as missing, but a more focused investigation may have led to an earlier recovery of his body."
It was 15 days after his family reported Mr Shi as missing before police contacted them, and then changed his status to that of a 'high risk missing person.'
Further inquiries were then carried out which led to the recovery of CCTV footage which showed Mr Shi near Lanyon Place, close to the Waterfront Hall and the River Lagan on 4 March.
His body was subsequently recovered from the river.
William Olphert, managing director of the Chinese Welfare Association, said it was clear from the police contact with Mr Shi and the concerns raised by his family that he was "extremely vulnerable".
"We urge the Police Service of Northern Ireland to follow the recommendations elucidated in this report and that officers are duly disciplined for not following police procedures," he added.
"Finally, we wish to once again, extend our sympathies to the Shi family for their loss and hope that through this tragic incident and subsequent report, the PSNI will be better equipped to handle 'missing persons' scenarios."
The Police Ombudsman has recommended that 14 officers be disciplined for issues ranging from failure to correctly risk assess the missing person report to failures to record and review subsequent police actions.
In response, PSNI Assistant Chief Constable Alan Todd said the case "illustrates that missing person reports present policing and partner agencies with significant challenges that need to be managed in a manner that is consistent and commensurate with the risks."
He said that in the financial year 2016-17, the PSNI investigated 12,821 reports of missing persons, an average of approximately 35 a day.
"Some of these reports are resolved both quickly and safely. Many others can involve a lengthy and challenging police investigation," Mr Todd said.
"The vast majority of all cases result in the person being located and in arrangements being made for their well-being. A very small number of cases do end in the type of tragedy experienced by Mr Shi and his family".
Since January 2010, the ombudsman has recommended disciplinary action against another 37 police officers for failings in dealing with missing person reports.