Londonderry security alert: Residents back home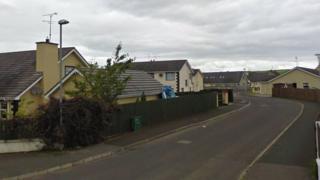 A security alert in Lettershandoney, near Drumahoe, County Londonderry has ended.
A number of people were moved out of their homes at Oeghill Park on Wednesday night.
SDLP councillor Jim McKeever told the BBC it related to a "suspect device" left at a property.
He said between 10 and 15 houses had been evacuated. Police said residents were back in their homes at about midnight.
Insp Greg Smyth said: "Information was received by police that suggested a device may have been left in the area.
"To ensure the safety of local residents and those travelling in and around the area it was necessary to carry out a thorough search and clearance operation.
"When it comes to public safety we cannot take chances and we would like to thank local people for their patience and understanding throughout the operation."
Community hall opened
Mr McKeever said people were angry that they had to leave their homes.
"Whether it's a viable device or a hoax, it is still an inconvenience to people, in the week that children go back to school. It's a whole upheaval," he said.
He said the area was "fairly quiet". "I grew up in it and it's something that we don't need here," he added.
The local community association opened up its hall to residents.