Drugs 'death rate' concern for NI coroner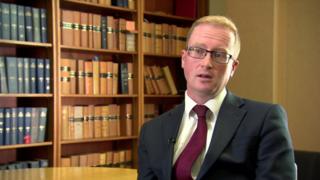 A coroner has called for a greater commitment to deal with the rising number of drug deaths in Northern Ireland.
Joe McCrisken told the BBC that while deaths linked to prescription drug deaths were falling in England, they are rising in Northern Ireland.
A number of deaths have been linked to drugs in the past year.
Mr McCrisken said: "Without wanting to overhype the situation, we have an increasing death rate."
Parents burying children
Sitting through drug abuse inquests had left him feeling fearful, he said.
"It makes me afraid," said Mr McCrisken. "I have two young children and some of the parents who come to me, their children are teenagers.
"No parent should have to bury their child. I had two parents in on Friday and their only child had died as result of talking Tramadol."
Mr McCrisken said that speaking to the families brought home the "devastation" drugs are causing.
"The statistics suggest that the people who are most at risk aren't teenagers but people aged 20 to 30," he said.
"Twice as many people in their twenties die as teenagers from drug misuse."
In August, Mr McCrisken warned that Northern Ireland had a "serious problem" with prescription drug abuse.
He said the latest figures indicated that Tramadol, a prescription drug, killed more people here than heroin.
"Fentanyl, also a prescription drug, killed more people here than cocaine and ecstasy combined," he added.
Mr McCrisken told BBC's Good Morning Ulster programme the problem was increasing.
"It would be useful to have a programme for government that had a commitment to dealing with the rising drug death problem and subsequent resources that assisted that," he said.
"There are groups on the ground, in places like east and west Belfast, who are doing good work and require resources and assistance.
"From my perspective, I think someone like me speaking openly might provide them with that assistance."
Mr McCrisken pointed to the lack of "leadership" as a problem.
"There should be that leadership from the top the whole way down, that permeates down down the community," he said.
"It's obviously not there are the moment as we have no executive. There has been a very good strategy in place previously and we don't have that at present."
In April, a Belfast GP said drug addiction services in Northern Ireland were "overwhelmed" and called for a multi-agency approach.
Dr Michael McKenna said that the number of his patients who had died due to drug addiction in the last 10 years would be "into double figures".