NI paper review: 'Useful idiots' and whiskey galore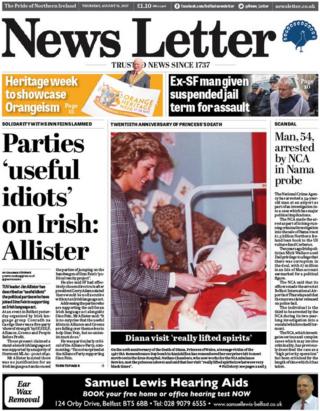 Politics, a search for human remains, Mass for a murderer and whiskey galore are among the stories in Thursday's papers.
The News Letter leads with TUV leader Jim Allister's description of parties who have backed Sinn Fén's call for an Irish language act as "useful idiots".
The SDLP, Alliance, Green Party and People Before Profit joined Sinn Féin at an Irish language event on Wednesday.
Mr Allister accused them of jumping on the bandwagon of Sinn Féin's "political vanity project".
He also said Sinn Féin had effectively chosen direct rule after its leader Gerry Adams said there would be no executive without an Irish language act.
Meanwhile, the Irish News leads with former senior Ulster Unionist Lord Kilclooney's explanation of a controversial tweet in which he said nationalists and unionists are not equal.
Lord Kilclooney - formerly John Taylor - said that while everyone should have equality of opportunity, the fact that nationalists were a political minority meant they could not claim equality with unionists.
"I get worried when Gerry Adams talks about equality - and I make the distinction between equality of opportunity and equality of political support," he tells the paper.
"The distinction is to ensure that each individual in Northern Ireland is equal in life's opportunities, whereas politically it means nationalism is a minority political force."
Staying with politics, the Belfast Telegraph says that DUP leader Arlene Foster will hit back at those who doubt her party's commitment to devolution on Thursday night.
The paper says that Mrs Foster will tell her party executive that despite the DUP's powerful position at Westminster "it does not change our fundamental belief in Northern Ireland shaping its own destiny".
It adds that Mrs Foster will challenge Sinn Féin claims that the DUP has broken promises on past agreements, including on the introduction of an Irish language act.
"Mystery surrounds alleged human head find," is the headline inside the Daily Mirror.
A police search was carried out in the Ballygomartin Road area of west Belfast after three teenage boys reported seeing a human head in a field.
The paper quotes one resident who said they heard the teenagers talking: "I couldn't hear what they were saying, but as they got closer I heard them say, I thought it was ' It's definitely dead, I can see the eyes', but now I'm thinking it was 'it's definitely a head'."
The story is also covered in the other three papers. Nothing was found in the search.
The Mirror and Irish News both cover a Mass in County Cavan for Alan Hawe, who murdered his wife and three sons last year.
Ten members of the victims' family guarded their graves during the service, the Mirror says.
It quotes a friend of the family, who says: "They are deeply upset their poor boys and Clodagh were mentioned in a Mass for the monster who murdered them."
Inside the News Letter looks at the 20th anniversary of the death of Princess Diana.
Nathan Chambers, who was 14 when he was injured in the 1987 Enniskillen bomb, recalls Diana's visit to the hospital he was in.
"The visit was a real morale boost," he tells the paper.
"It really lifted spirits in what were very black times."
Finally, to put you in the mood for a little tipple, the Irish News says that £90m of whiskey is maturing in casks under lock and key at the Old Bushmills Distillery.
To accommodate it, the company has plans to build a number of huge new warehouses over the next decade on 60 acres of adjacent land.
Something to lift the spirits this morning.