Northern Ireland Hospital waiting list numbers soar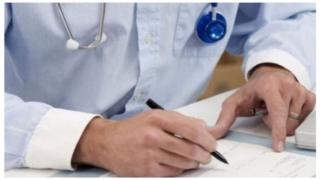 More than 250,000 people are waiting for hospital outpatient appointments in Northern Ireland.
That is an increase of 17% on last year's figures.
New data from the Department of Health also shows that about 64,000 people have been waiting for more than a year to see a consultant.
According to the current ministerial target, by March 2018, no-one should be waiting more than 52 weeks to be seen.
The latest figures show that every ministerial waiting-list target was missed at the end of the second quarter of 2017.
Waiting times for diagnostic test have also risen.
More than 40% of patients waited more than nine weeks for a diagnostic test - approximately 48,000 people, including cancer patients.
Government targets highlight that waiting list should be half this amount.
Stormont stalemate blamed
Alliance MLA Paula Bradshaw said the figures showed that politicians had "no more time for the cynical blame game" and called for a power-sharing executive to be restored.
She added that recommendations in last October's Bengoa report needed to be implemented urgently, as they are specifically designed to reform the "broken" system.
It was also the DUP and Sinn Fein who chose not to raise health spending in line with England, and they cannot run away from their responsibility to fix that," she said.
"Proposals already exist for a compromise on the issues which they themselves claim caused the breakdown.
"Now is the time to restore the Executive, while allowing the Assembly to scrutinise and debate free from improper use of petitions.
"People's lives depend on it."
Devolution at Stormont collapsed in January following political disagreement over a botched renewable-heating scheme.