Ashbrooke Care Home residents still being relocated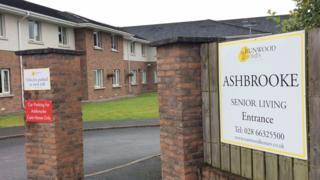 Residents are still being relocated from a nursing home ordered to close because of care failings inspectors said were the worst they had ever seen.
The Regulation and Quality Improvement Authority ordered Ashbrooke Care Centre in Enniskillen to close on 21 August.
Families were told all 40 residents would be relocated by 31 August.
It came after an unannounced RQIA inspection found conditions at the home presented "a serious risk to the life, health and wellbeing" of residents.
'Tight timescale'
Inspectors reported dirty equipment, unwashed patients who were suffering weight-loss, and a "strong odour of faeces and urine" at the County Fermanagh home, which is operated by Runwood Homes.
"As a result of systemic care failings and concerns in relation to the management of the home... RQIA moved to cancel the registration of Runwood Homes Ltd in respect of this service," said the RQIA on Friday.
Since the report was released, residents' relatives have been working with the Western Health and Social Care Trust and Runwood Homes to find alternative placements.
But while it is understood all the nursing care residents have now been found places in other homes within the Fermanagh area, a small number of residential care clients have yet to be found places.
"Unfortunately given the tight timescale, appropriate accommodation could not be obtained for a number of clients within the local area, which meets their individual needs," said Kieran Downey, executive director of social work for the Western Health and Social Care Trust.
He said the Trust had been approved by the RQIA to be the registered provider of Ashbrooke Care Centre from 1 September.
"This will enable the Trust to effectively co-ordinate the planned discharge of the remaining residents to suitable facilities, close to family and in the local community," said Mr Downey.
Runwood Homes said it planned to appeal against the RQIA decision to close the home, but that this process could take several months.
"We are reassured that the Western Trust is creating this breathing space to accommodate the timely and appropriate relocation of the people who are still in our care," said Gavin O'Hare-Connolly, the company's group operations director.
There would be weekly meetings to keep staff up to date, he said, adding that they would be offered "redeployment to sister homes or redundancy as appropriate".
'It's been horrendous'
For those who have had to go through the process - many of whom have dementia - it has been a stressful time.
"It's been horrendous," said Ruth Sproule, whose mother has lived at Ashbrooke for more than a year.
"We're starting to cope now, because we have got her a place.
"We had thought she was going to have to go to Londonderry or Armagh, but thankfully she's going to be moved not too far from here."
Although that has been a huge relief for the family, it is still a difficult time.
"I'm not looking forward to the next couple of days," said Ruth Sproule.
"It takes people with dementia a long time to settle.
"My mother has cried, she knows she's moving. She doesn't want to leave the staff in there because she loves them.
"We love them, it's like a wee family in there."
Like most of the residents at Ashbrooke, Ruth's mother has dementia.
Legal options
Many Ashbrooke residents also have complex nursing care needs, meaning they require a specialised care environment.
Some relatives initially refused to move their loved ones, insisting they would prefer the home to be kept open.
But it is understood they have now all agreed to the residents being moved.
"We'd love to sit there and protest, but it's not going to happen," said Ruth Sproule.
"It's going to close no matter what. We can't leave them in there, much as I would love to sit there and not let her out.
"But we have to be realistic and move them now when we are getting moved."
Runwood Homes Limited said last week they were exploring legal options for keeping the home open, although no information has been provided about what those options might be.