School costs parents £1,200 per child annually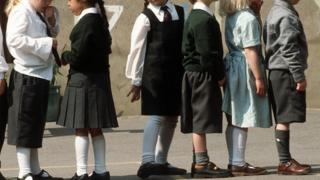 Parents spend more than £1,200 per child each year on education costs, a new report suggests.
The cost of education report has been published by the Northern Ireland Commissioner for Children and Young People (NICCY).
School meals and snacks accounted for more than half of the average spend per child.
The children's commissioner has called for the system of voluntary contributions to end immediately.
The NICCY based its report on interviews carried out with a representative sample of 1,006 parents of 1,629 school age-children.
It found parents paid most for children attending grammar school, with an average spend of £1,990 per year per child.
Parents were asked how much they spend on things like:
School meals
Transport
School uniforms
School fees
Voluntary contributions
Equipment for lessons
School meals and snacks accounted for over half of the average spend per child.
Parents also said school transport and school uniforms accounted for a significant proportion of what they spend each year.
Parents said they spend an average £109 per child on school uniforms and £431 on school transport.
However, almost a quarter of children (22%) whose parents took part in the survey were entitled to free school transport; 29% were entitled to free school meals.
Additionally, three in 10 parents said they had been asked to make a financial voluntary contribution to their school.
The children's commissioner, Koulla Yiasouma, has called for voluntary contributions to end immediately.
The report found that pre-school education had the lowest cost per child and grammar schools the highest.
Ms Yiasouma said she was particularly concerned about how families on low incomes would meet some of the costs.
"The report clearly demonstrates that children in Northern Ireland are not enjoying their right to a free education," she said.
"Financial support for parents on low incomes only applies to a small proportion of these costs, and does not even begin to plug the gaps."
On average, parents spent per year:
£421.21 per pre-school child
£1004.64 per primary school child
£1517.85 per secondary school child
£1989.70 per grammar school child
However, Ms Yiasouma defended using how much parents paid for meals and snacks as part of the overall cost of education figures.
"We know that poorer parents have significant costs around feeding their children," she said.
"It's this whole notion of a free school day and not discriminating and not always identifying the poorer children.
"We would say a free school day should be that.
"A child should be fed when at school and they should be clothed when at school and be able to get to their nearest school free of charge."
She also said that recently published Treasury figures showed that less of the education budget went directly to schools in Northern Ireland than in the rest of the UK.
"There may be potential within existing resources to give more money to schools," she said.
Ms Yiasouma has called on the executive to ensure schools are adequately funded to remove some of the financial pressures on parents.
Earlier this week, the BBC revealed that funding-per-pupil was being cut in Northern Ireland 2017/18.
She also recommended that schools revise uniform policies to ensure parents can buy uniforms from a range of suppliers.
She also said that the additional costs of education for children with Special Educational Needs (SEN) should be met by government and that funding given to schools for disadvantaged children should be used solely for them.
Parents can calculate how much they pay for their child's education via the NICCY website.