Woman awarded £11,000 in disability discrimination case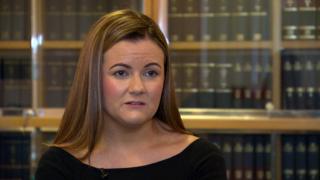 A woman who asked her employer to reduce her working hours because of her mental health has been awarded more than £11,000.
A tribunal found that the car firm, Charles Hurst, had discriminated against Marie-Claire McLaughlin under the Disability Act.
She had panic attacks and depression but the request for reduced working hours took 14 months to process.
The tribunal found that was too long and had added to her health issues.
A spokesperson for Charles Hurst said the company fully accepted the ruling.
They added: "Charles Hurst Group vehemently opposes all forms of unlawful or unfair discrimination...
"The tribunal also ruled, unanimously, that neither did the company victimise nor harass the claimant.
"We fully accept, however, the tribunal's one ruling that the length of time which was taken to implement a reduction in working hours was too long and we deeply regret any distress this caused."
Ms McLaughlin told the BBC: "They hadn't been very acknowledging of the disability. They just had the ethos that 'I can't see it so therefore it's not there".
She had been employed by Charles Hurst Limited since July 2012, and worked an average of 47.8 hours per week.
She had suffered previously from mental ill-health and had absences from work due to bouts of depression and panic attacks.
Ms McLaughlin applied to reduce her working hours to 40 per week and, in her application, she made specific reference to her disability and the severe impact it was having on her and her work colleagues.
The tribunal found that her request for reduced hours was "not considered in an appropriate manner".
"It was consistently dealt with as an application for flexible working, with an emphasis on the needs of the business. There was little or no focus on the needs of the claimant," it said.
The timeframe for dealing with Ms McLaughlin's request took 14 months, and the tribunal considered that this was at least four and a half months too long.
The tribunal stated: "Had the employer focused correctly on the concept of reasonable adjustments under the Disability Discrimination Act 1995 and taken a proactive approach to the matter, all members of the tribunal are satisfied that the claimant would have had the benefit of the reduced hours she sought at an earlier stage."
The tribunal held that there was no doubt that the treatment Ms McLaughlin received at work affected her mental health and well-being.
'Increasing concern'
Dr Michael Wardlow, of the Equality Commission for Northern Ireland, said: "There is a need for employers to be more pro-active in addressing issues around mental health.
"Proper - and timely - management of this issue should be an important focus for all employers.
"The tribunal noted that, when the adjustments were put in place, Ms McLaughlin found it much easier to cope with her employment. She had little or no absence from work and she found it much easier to get the job done.
"This highlights the fact that reasonable adjustments, while required by legislation to benefit people with disabilities, can also benefit business through outcomes such as improved attendance and increased productivity."