Inquest into Steven Colwell shooting begins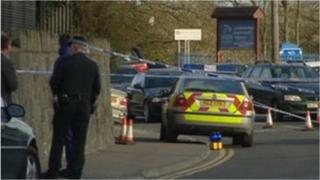 An inquest has opened into the death of a Belfast man shot dead by police during a traffic stop in County Down 11 years ago.
Steven Colwell, 23, was shot after he failed to stop at a checkpoint in Ballynahinch on 16 April 2006.
His death was originally investigated by the Police Ombudsman, who found the actions of the officer who shot Mr Colwell were "critically flawed".
This finding was rejected by the Police Federation for Northern Ireland (PFNI).
'Lovable kid'
Mr Colwell's older brother, Gary, told the hearings in Belfast that he was "very special" and had been "one of the most lovable kids you could meet".
However, a severe head injury as a child had changed his personality and he became a "feral child".
Mr Colwell had been driving a stolen silver BMW in April 2006 when he approached a police checkpoint in Ballynahinch, County Down.
When an officer approached the vehicle, it was claimed, Mr Colwell attempted to drive away but was blocked by other cars.
The officer (known as Officer O) claimed the car was driving straight towards him when he fired two shots.
'Life changed forever'
Gary Colwell told Judge Neil Rafferty his younger brother was born shortly after his parents had lost their daughter, Amanda, in a road traffic accident.
The loss of their child was something they never got over but Steven, when he was born, was seen as a "message from God".
When Mr Colwell was a child, he was hit on the head with a brick.
It caused severe damage and, following a six-hour operation, Gary Colwell said his brother's life was changed forever: His speech was affected and he was moved to a special school.
Gary said his parent's grief and Steven's injury combined to make a situation where his mum and dad were "afraid to discipline" Mr Colwell.
He became increasingly frustrated and angry, and eventually started "mixing with the wrong type" and "keeping bad company", his brother said.
The family have been waiting more than a decade for the hearings to be held.
"It's been a hard battle," said Gary Colwell. "It's been really hard."
The inquest is expected to hear evidence from at least 98 witnesses and will last four to six weeks.
A lawyer said they would be looking at the wider circumstances of the death including how the police operation was planned and supervised and the fitness of the officer to have a fire arm.
Mr Colwell's son, Jordan, 17, was in court for the opening of the hearings.