Top judge Sir Declan Morgan criticises legacy progress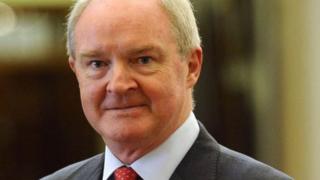 Northern Ireland's senior judge has again criticised the lack of political progress on dealing with legacy issues.
The Lord Chief Justice, Sir Declan Morgan, still has not received a response to his proposals to deal with inquests into some of the most controversial killings of the Troubles.
He had asked the Stormont Executive to fund his five-year plan last February.
He has said there is a legal obligation on the state to ensure so-called legacy inquests take place.
In a speech to mark the opening of the new legal year, he said a lack of resources had constrained the ability of the courts to deal with the backlog of legacy inquests for which he was made responsible almost two years ago.
"I have already made clear my disappointment at lack of progress in dealing with all aspects of the past," he said.
"It remains a deep frustration to me that I have still not received a response to the proposals I put forward over 18 months ago for dealing with the matters for which I have been given responsibility."
'Hugely complex'
When Sir Declan assumed the presidency of the Coroners' Courts in November 2015, there were 55 legacy cases involving 96 deaths.
Four of those cases have since been completed, and findings are awaited in a further three.
But two new legacy inquests have also been referred.
The Lord Chief Justice said 45 "hugely complex" cases remain where the courts have not been able to carry out preparatory work to allow them to progress to full inquest hearings.
Only one legacy inquest is expected to be heard next year.
"Each month that passes pushes back by another month the timescale within which all of the outstanding cases can be completed," he said.