Harland and Wolff hopes to be part of Royal Navy plans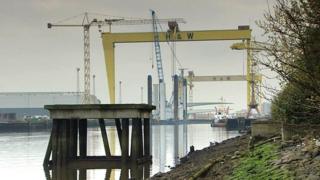 Belfast's Harland and Wolff has said it "very much" hopes to be a part of a government plan for five new Royal Navy frigates to be built across the UK.
The new frigates would be built across different shipyards, but assembled at a central site, and ready for service by 2023.
Their cost would be capped at £250m each.
Harland and Wolff's Jonathan Guest said the company could bring its "commercial edge" to the plans.
"These are meant to be really good ships that have an export capability," he said.
"The idea of being able to build them in different shipyards around the country is really the essence of what the national shipbuilding strategy is trying to do - getting multiple industrial partners involved and we'd very much like to hope that Harland and Wolff would be one of those.
"Unfortunately, Harland and Wolff haven't been part of any of the naval shipbuilding to date, we have found that a little bit of a closed shop to try and break into.
"So certainly we have turned our efforts into the much more commercial areas in the oil and gas space and more recently the renewable space.
"We would like to bring the commercial edge that we have to the MoD and we could see that as being only a win-win situation for them."
The Ministry of Defence accepted recommendations from the former chief executive of Harland and Wolff about its strategy for building navy ships.
Sir John Parker proposed that the work should be spread about the UK's yards, including Belfast.
'Huge opportunity'
Defence Secretary Sir Michael Fallon told BBC Breakfast this was a "huge opportunity" for UK shipyards which could bid for these "big contracts" next year, with building expected to start the following year.
The navy currently uses Type-23 frigates, which would be slowly phased out, added Sir Michael.
They are to be replaced by eight Type-26 frigates, which are being built in Glasgow, and five of the smaller Type 31e frigates.
Speaking to Radio Ulster, defence analyst Francis Tusa questioned the feasibility of the plan to spread the work across different shipyards.
"I think the problem is very simple," he said.
"If you want loads of yards, multiple shipyards competing or whatever, the UK simply does not spend enough money on naval shipbuilding to allow this to happen."