Church of Ireland Bishop Pat Storey mistaken for secretary
By Nuala McCann
BBC News NI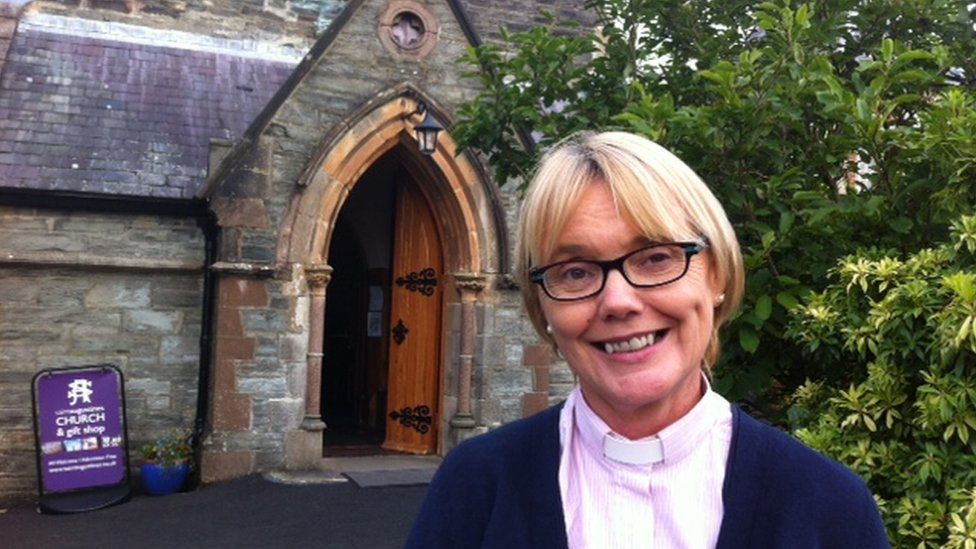 The UK and Ireland's first woman bishop has had her trials breaking through the stained glass ceiling.
But the most Rev Pat Storey can share a laugh about the disbelief she encounters in daily life.
In a talk on women and leadership in Dublin, she recalled the male bishop who assumed she must be the secretary.
Speaking to the BBC on Friday, Mrs Storey said: "It has happened to me several times in different banks.
"They always make those assumptions. They assume the bishop is a man."
She is the third most important person in the Church of Ireland.
Being a woman in high office has its funny sides, she told her audience at Dublin City University earlier this week.
"Recently I went to the bank to lodge a cheque. I handed it over to the cashier who took one look at it, passed it back over the desk to me and said: 'The bishop will have to sign that himself.'
"I smiled at her, passed it back over the desk and said: 'I am he'.
"She was, of course, mortified. People always are."
When she went to renew her driving licence recently, the young man behind the desk looked at her address and said: "Wow, you're married to a bishop."
She explained that she was the bishop and he was, she said, very apologetic.
Then there was the Celtic bishops' conference when she was with a group of about 12 senior church members sitting down to a meal.
A UK bishop came bustling over, pinpointed her and said he was sorry to disturb but his room did not seem to have been booked?
Another Irish bishop intervened immediately and said that Mrs Storey was not the secretary.
'I thought it was funny and not misogynistic'
"The UK bishop immediately stretched out his hand to shake mine and said: 'Oh, I am so sorry - you must be one of the wives?'
"At this point, the Irish bishop beside me nearly had apoplexy. Again, the bishop concerned was utterly mortified. Of course he was. We all would be.
"Isn't it interesting that in this day and age, a woman at the senior level table is either bound to be the secretary or the wife," she told her audience.
Speaking to the BBC, the bishop said: "I thought it was funny and not misogynistic. People make assumptions."
She said that she prefers to treat such assumptions with humour: "You don't need to be brutal to other people in the midst of it. So I try not to take myself too seriously."
She said that the main focus of her speech was about what women bring to leadership.
"On a serious note, I was saying that leadership is changing and that women are coming to the senior top table," she said.
"It is early days. We bring what it means to be a woman and we represent 52% of the population. As women, we bring something different."