Ballycastle death driver jailed for over four years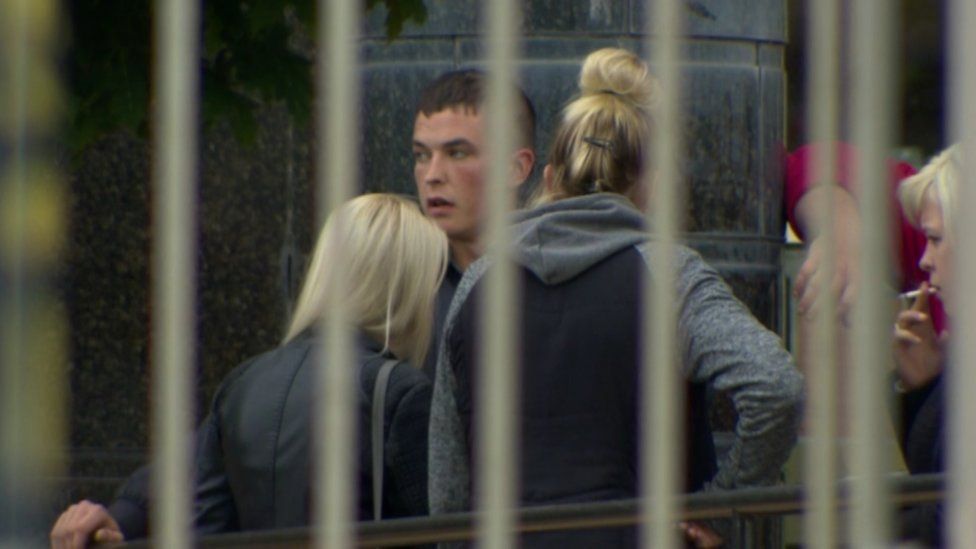 A man who was involved in a high-speed car crash that resulted in the death of his cousin and another man, has been jailed for over four years.
Shane Kinney, 23, admitted racing his cousin on 6 April 2015 on the Cushendall Road in Ballycastle.
Kinney broke down when he was given a nine-year sentence, half of which will be spent in prison.
His parents, Kevin and Sharon Kinney, admitted trying to help their son cover up his involvement in the crash.
Kevin Kinney was jailed for six months as part of a 12-month sentence.
Sharon Kinney was given a nine-month sentence suspended for two years.
The two men who died in the crash were Johnny Black, 19 and Robin Wilson, 26. Seven other people were injured.
The judge said it had been a "dreadful accident in an almost head-on collision'' which had left behind a scene of "devastation and carnage''.
He added: "Shane Kinney you bear a substantial responsibility for causing this accident as you engaged in highly dangerous racing, Johnny Black was entirely innocent and bore no responsibility for what occurred.
"If you had not been racing there would not have been this accident.''
He described Kinney's parents' conduct after the collision as "disgraceful and shameful''.
Speaking after the verdict, Johnny's father, Seamus, said: "We got our sentence on 6 April 2015 for life.
"None of them got life today.
"I think they should be happy, they got off so lightly. But we are not here to blame the system, the judge has to go with the system."
He thanked especially the emergency services and the firemen who came out on the night of the crash.
"Many of them knew Johnny... and they had an awful hard job that night dealing with getting him out of the car," he said.
Robin Wilson's mother Patricia Davidson said she felt the family had got justice.
Liam Arbuckle whose daughter, Clodagh, suffered a brain injury in the crash said she suffered from survivor's guilt.
"It won't get my daughter back to where she was, it won't get Johnny back," he said.
"I'm glad the judge saw through their lies and deceit and they are going to serve a decent prison sentence."
He said Clodagh had "good and bad days".
"She took off so well at the start of her recovery, it has really slowed to a crawl," Mr Arbuckle said.
"She is hoping to pursue her career again and get to university. That is one thing, she has drive and determination and she is not going to let this stop her."
Kinney, from Drones Road in Armoy, pleaded guilty to two counts of causing death by dangerous driving, and two counts of causing grievous bodily harm by dangerous driving.
His father, Kevin, 52, admitted perverting the course of justice by removing his son's car and obtaining parts to have damage to it repaired.
His mother, Sharon Kinney, 50, pleaded guilty to perverting the course of justice by removing the car after it was involved in the fatal Easter Monday crash.
Con Stephen Dickson said the police welcomed the sentences, and that the "simply catastrophic" collision could have been avoided.
"There are no winners here. Unfortunately, the families and those who have been involved directly will continue to suffer from the effects of this horrific crash for years to come," he said.
Last Friday, the court heard how Shane Kinney and his cousin, Robin, were "like brothers".
An eyewitness recalled hearing Shane Kinney say on the night of the incident: "I've left them lying there dead. I've hidden my car."
The judge was told Shane Kinney's parents' response was a "hasty" and "human reaction".
A previous court hearing was told that two vehicles were found at the scene of the crash, one in which Mr Wilson had been travelling, and the other in which Mr Black had been travelling.
However, investigations led police to believe a third vehicle was involved, a blue Volkswagen Golf, identified as belonging to Shane Kinney.
No damage was found to his car when he presented himself to police two days after the crash.
But, officers believed car parts were stolen in a scrap yard in Armoy and fitted to the vehicle.
Forensic evidence matched the parts to a car in the yard.
Witnesses also placed Shane Kinney at the scene of the crash with damage to his car.