Northern Ireland's love affair with bread
By Caroline McClatchey
BBC News NI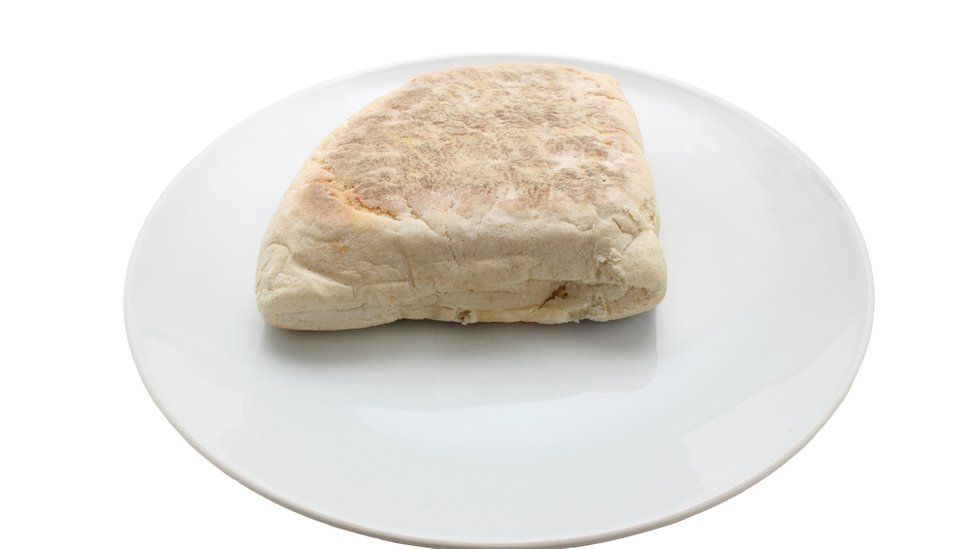 Whether it's a scone, soda or slice of white - the people of Northern Ireland love all things bread.
And during National Bread Week, there is no better time to talk about this love affair.
A survey carried out to mark the week suggested that nearly half of all people could not contemplate breakfast or lunch without it.
More than 80% of the people questioned in Northern Ireland said the smell of bread made them happy. Half said it evoked happy memories.
Bread has been a staple food in the diet of most populations since the Egyptians but Northern Ireland seems to have a special relationship with it.
Where else would bread take centre plate above bacon and eggs in a fry-up? Where else is the humble scone revered as a life-affirming guru?
Brian Irwin, chairman of the Northern Ireland Bakery Council, said everybody in Northern Ireland "knows and loves their bread" - due to the high quality from the smaller bakeries and the bigger firms.
"It's also cultural. Not only do we enjoy our bread, we are proud of our bread," he added.
"We love our wheaten bread, soda bread, potato bread, Veda bread. We like to talk about them to visitors, to our children. How many students are going back to England smuggling suitcases full of Veda loaves?"
Potato Farl - Potato replaces a portion of the regular wheat flour. It is traditionally cut into a triangular shape before serving - the word farl comes from the Gaelic fardel meaning four parts.
Barmbrack - This yeasted bread consists of a sweet dough with added sultanas and raisins.
Soda - It has been a particular speciality since the late 19th Century. It incorporates baking soda as a leavening agent instead of yeast, and is specifically made from soft wheat flour and is traditionally made with buttermilk.
Wheaten - Traditionally baked on a hot cast-iron griddle over an open peat fire. The bread follows the same recipe as soda bread but with wholegrain flour and is often served with smoked salmon.
Batch loaf - A tall loaf with a dark, well-fired crust on the top and the bottom of the bread. There is no crust on the sides due to the unbaked loaves being stuck together in batches.
Nial Toner, who co-writes the NI food and travel blog, Pikalily, with his wife, Helen, says "very few homes in Northern Ireland don't have a well-stocked bread bin".
"We have all grown up around bread - wheaten, soda, barmbrack, the Belfast bap," he added. "There is a tradition of weekend baking and recipes being passed through families."
Recent statistics from the annual Living Costs and Food Survey show people in Northern Ireland eat more bread than their counterparts in England, Scotland and Wales. The same goes for cakes, buns and pastries.
The bread figures, from March 2017 and shown in grams per person per week, put Northern Ireland's average at 681g, compared to 612 in Scotland, 584 in Wales and 559 in England. A standard-size loaf is about 800g.
There is a whole lot of love for the much-maligned white bread (standard, sliced variety) and we out-munch our neighbours when it comes to malt bread and fruit loaves. Northern Irish people are also particularly partial to "other breads".
Other research from retail analysts Mintel shows that packaged, sliced bread remains the most popular type of bread purchased by Irish consumers.
Compared to the UK, bread sales continue to rise in Northern Ireland - the value of bread sales (not including cakes) increased by 2.3% from £130m in 2014 to £133m in 2015. It is predicted to be £141m this year.
Mintel's Aisling Kearney said: "The Irish bread market continues to perform well despite consumer bread prices in both Northern Ireland and the Republic of Ireland in decline.
"This is reflective of the increased demand for specialty bread and morning goods which are typically sold at higher prices points compared to packaged bread.
"The UK market has seen year on year sales decline as a result of supermarket price wars driving down the price of essentials including bread to entice consumers in-store."
So-called morning goods are the stuff of doughy dreams - bagels, croissants, crumpets - and toast is where the love affair began, according to Mr Irwin.
"We have warm memories associated with bread and the smell of bread and that goes right back to the kitchen and family home.
"It might even go back further - in the recovery ward after birth, mothers are given tea and toast and that is one of the first smells for that little baby."
The survey of 1,000 people across the island of Ireland for National Bread Week suggested the most popular memory evoked by the smell of bread involved the word mother or mum (29%). One in five memories mentioned childhood (20%).
To celebrate the week, scientists at University College Dublin have been reviewing research into why we love the smell of bread.
According to UCD's Dr Amalia Scannell, this is due to its ability to evoke odour-cued memories - which tend to be older memories from the first decade of life.
"Incoming smells are first processed by the olfactory bulb, which has direct connections to the two brain areas strongly implicated in emotion and memory," she said.
"Bread will have featured heavily in most people's childhoods, which is why it is one of those smells that evokes such strong memories, particularly of family, childhood and comfort."
Blogger Nial Toner says bread is also so appealing because of its versatility and there's a lot of experimentation going on in Northern Ireland with new artisan breads and flavours.
His family is into baking the Italian olive-oil bread focaccia at the moment but his favourite?
"It's hard to beat the traditional favourites like potato bread, soda bread, wheaten bread and barmbrack. Put a nice bit of melted butter on it and away you go."
Related Internet Links
The BBC is not responsible for the content of external sites.