Sepsis diagnosis 'turned my hair white'
By Marie-Louise Connolly
BBC News NI Health Correspondent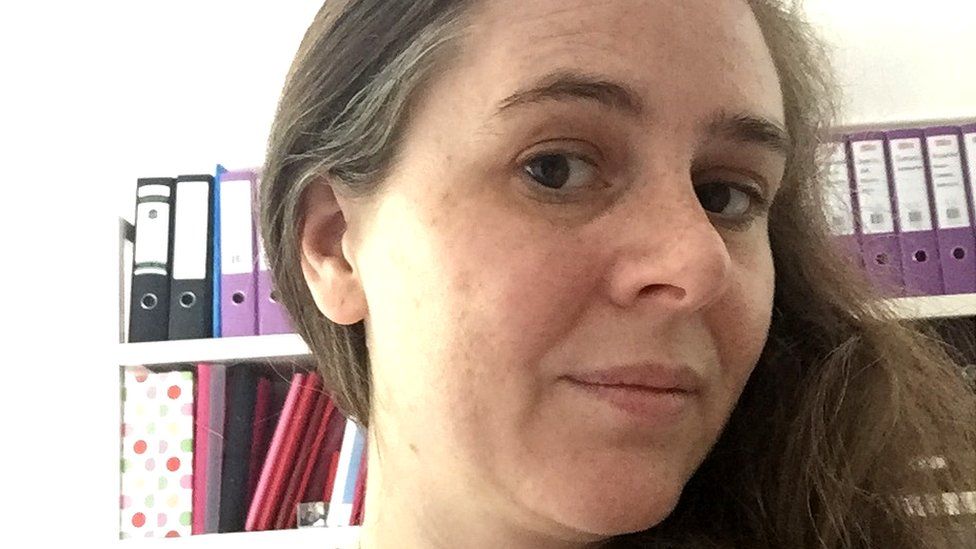 Sarah McAleer may have survived sepsis, but the trauma turned some of her hair white almost overnight.
The County Down woman first developed what felt like flu symptoms in December 2016.
Days later, the 42-year-old was admitted to the Royal Victoria Hospital in Belfast and diagnosed with pneumonia and sepsis.
In the process, she suffered a collapsed lung, a damaged liver and was completely drained of energy.
To mark World Sepsis Day on Wednesday, she hopes her story will educate others about an infection that kills about 44,000 people each year in the UK.
"After looking at my records, I recall a doctor rolling his eyes and saying that's some infection you have on board - in fact you have sepsis," she said.
Sepsis is a life-threatening illness caused by the body's response to an infection.
It develops when the chemicals that the immune system releases into the bloodstream to fight an infection such as pneumonia cause inflammation throughout the entire body instead.
It can be triggered as a secondary response to an infection, but most commonly occurs in response to bacterial infections of the lungs, urinary tract, abdominal organs and the skin.
Sarah's symptoms were typical - first of all extreme shivering, sweating and then pain spread throughout her body.
According to Sarah, at first doctors in the emergency department confused her symptoms for flu. It was only when she returned 48 hours later that her condition was properly diagnosed and she was hospitalised.
In a blog, she described how she felt so ill that she thought she was going to die.
"The pain in my back is like being stabbed with a knife, I feel so sore, like I have been plugged into an electrical socket," she wrote.
So busy was the emergency department, that she spent the first eight hours in an ambulatory ward as nurses attempted to find her a bed in a ward.
She recalled feeling a tremendous pressure building in her body and that her joints screamed with pain.
Doctors told her she was lucky to have been diagnosed in time and given the proper medication.
Sarah feels little is known about sepsis and would like to see a public awareness campaign in Northern Ireland.
As the new lead of the Sepsis Trust in Northern Ireland, she is also calling for more accurate figures about the number of people affected by the infection, including numbers for those who have died.
"I quickly discovered that there are no pneumonia or sepsis recovery protocols in place - in fact my GP didn't really know how to help. Basically I had to do my own research," she said.
While each of the five health trusts have their own sepsis plans - the charities are pushing for Northern Ireland to have one single action plan.
Nine months after her own sepsis ordeal, Sarah said she continues on the road to recovery.
"I feel that it has poisoned every single part of my body inside and out. From my bloods to how it affects my muscles and the daily pain in my back," she said.
"There's also the brain fog, the chronic fatigue, insomnia and the post-traumatic stress. And to the more visible things like how it's turned parts of my hair white."
Sarah now writes about her experience and says it is all about turning something bad into good.
Related Internet Links
The BBC is not responsible for the content of external sites.