Larne attack: Man remanded over 'feud' shooting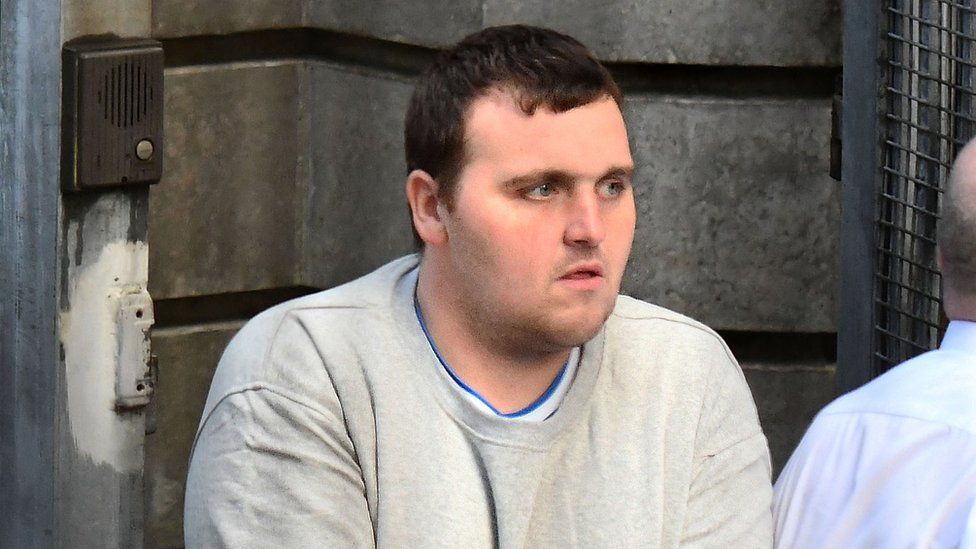 A man charged with attempted murder over a gun attack on a young family's home in Larne, County Antrim, has been remanded in custody.
Jonathan McCormac, 30, from Wellington Green in Larne, is charged with attempting to murder James and Aislinn Hassin and their three children.
The children, aged 10, seven and three, were asleep when shots were fired into their bedroom on Brustin Brae Road.
Police alleged in court the attack was linked to loyalist paramilitaries.
Shots were also fired into the hallway of the house, and a car was set alight and destroyed.
However, no-one was injured in the shooting.
A police officer told Ballymena Magistrates Court that the attack was "linked to ongoing tensions between loyalist paramilitaries, James Hassin and his family".
Objecting to a bail application, police said "any associate of Mr Hassin is being targeted".
The court was told that the car of one of Aislinn Hassin's parents was targeted in an arson attack in Larne on Tuesday night.
It was heard that James Hassin identified Mr McCormac as one of the masked men who attacked his home based on his build and gait.
It was heard the pair have known each other for about five years.
Mr McCormac has also been charged with hijacking and aggravated vehicle taking.
It was heard that masked men who hijacked the car used in the attack told the victim: "If you phone the police we know who you are and we'll be back for you."
Mr McCormac faces further charges of attempted aggravated burglary and possession of an offensive weapon in the Antrim area on 18 August.
He is also charged with criminal damage and possession of an offensive weapon at Victoria Road in Larne on 29 August.
A 30-year-old woman has also been charged with attempting to pervert the course of justice linked to the incidents in Larne on Monday morning.
She is due in court next month.
The court was told that two guns, shotgun cartridges and a crowbar were found during searches in Larne on Tuesday, a few hundred metres from Mr McCormac's home.
The judge refused bail and said: "I sit here every Wednesday and Thursday and see cases coming in from Larne every single week."