CCEA to review NI exam rules after England cheat claims
By Robbie Meredith
BBC News NI Education Correspondent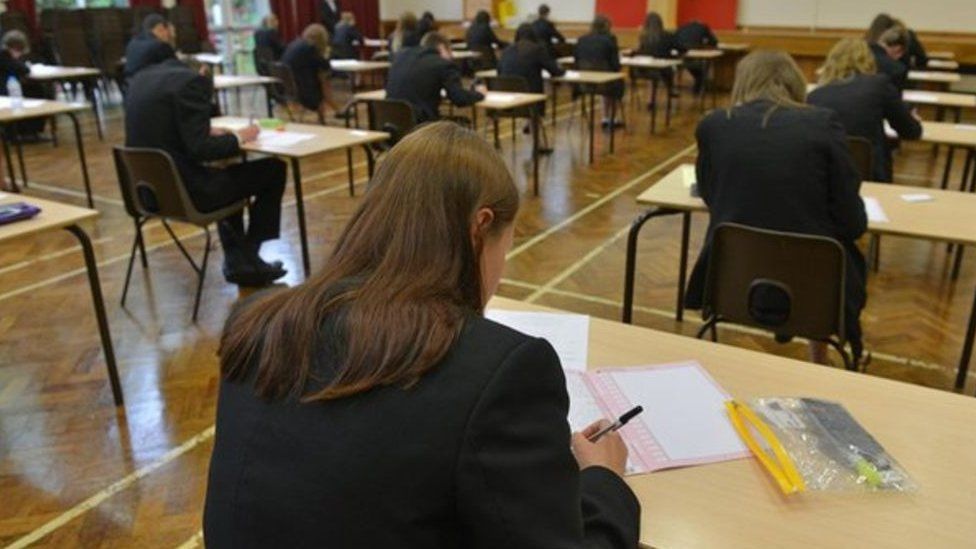 Northern Ireland's exams body is to review the rules surrounding teachers who help to write exam questions.
It has led to calls for a clearer line between teachers involved in setting exams and those teaching the subject.
CCEA is Northern Ireland's exam setting and qualifications body.
Teachers can be employed by CCEA as examiners, setting the questions for exams like GCSEs and A-Levels.
According to conditions issued to them, they are required to maintain confidentiality and professional integrity.
"All examiners who are contracted to provide services for CCEA are required to maintain the confidentiality of assessment materials," the conditions state.
Although CCEA said malpractice by teachers was exceptionally rare in Northern Ireland, they are now to review how exams are set.
"Involvement of serving teachers in the process of exam setting has been long established and is recognised to have many benefits," a spokesperson said.
"However, following Ofqual's announcement of its intention to review the process of exam setting, CCEA will be conducting a parallel review of the procedures under which serving teachers take part in question setting and examining.
"CCEA will scrutinise whether the safeguards in place for Northern Ireland are sufficiently robust and whether changes or enhancements would be beneficial."
CCEA has yet not specified when the review will be completed.