Paper review: Paramilitary row, County Tyrone hero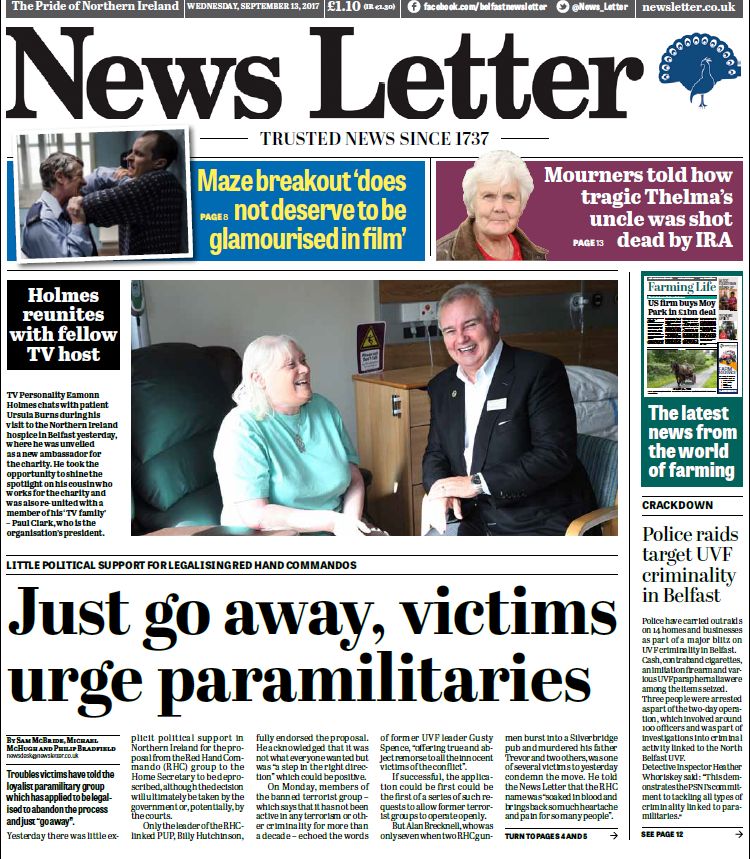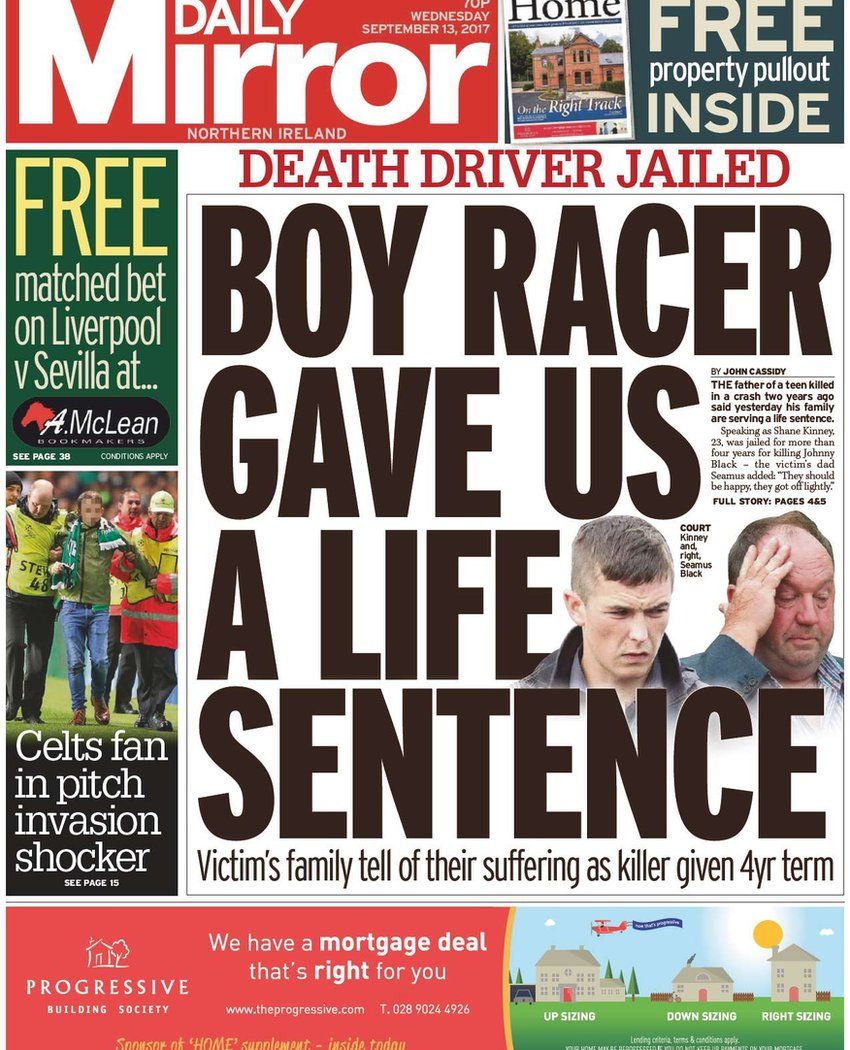 The words that lead the News Letter are a stark warning to paramilitaries.
The Red Hand commando (RHC) group travelled to the Home Office on Wednesday to submit a formal application to be removed from the list of proscribed terrorist organisations.
Alan Brecknell, who was seven when the RHC murdered his father, condemned the move, saying the group was "soaked in blood".
PUP leader Billy Hutchinson was the only political leader to give the application support, calling it a "step in the right direction".
Less sanguine was TUV leader Jim Allister, who said the idea must be "rejected by all right thinking people", and Sinn Féin, which called the idea "ludicrous".
Political leaders in Northern Ireland and the Republic of Ireland were keen to point out the missing counties.
The broadcaster sent letters to those who had complained, including Sinn Féin MP Barry McElduff, apologising for the "disrespectful and distressing" appearance of the graphic.
The face of a local celebrity also beams out from the front page of the News Letter.
Belfast-born Eamonn Holmes is pictured at the NI Hospice, where he was revealed to be the news ambassador for the charity.
A tragic story of death-driving leads the The Belfast Telegraph and Daily Mirror.
A man has been jailed for more than four years for his part in a high-speed car crash that resulted in the death of his cousin and another man.
Shane Kinney, 23, admitted racing his cousin on 6 April 2015 on the Cushendall Road in Ballycastle.
The papers report that the grieving family of one of the men killed in the crash - 19-year-old Johnny Black - said Kinney had been "lucky" with the sentencing length.
Seamus Black paid tribute to his "quick and clever, and humorous" son, Johnny, describing him as "everything you could look for in a son or person".
Also in the Belfast Telegraph, a tearful reunion between a Vietnamese girl rescued 38 years ago from a "sinking boat in the South China Sea" and her County Tyrone hero.
Healey Martin, who was captain of a cargo vessel in 1979, rescued more than 1,000 civilians fleeing communist Vietnam after his ship came across two crowded boats.
The father-of-two was reunited with Ann Bates, who was 15 when he rescued her from a sinking ship.
Ann travelled to Nightingale nursing home in Dungannon to visit the man she calls her "hero".
Mr Martin said the meeting was emotional and brought back painful memories.
Ann, who had travelled alone in the seventies as a teenager, settled into life in England as a nurse after her rescue.
Mr Martin told the paper he gets a Christmas card from her every year and that she thinks of the day that she was rescued as her birthday.