RTÉ apologises for cutting NI off map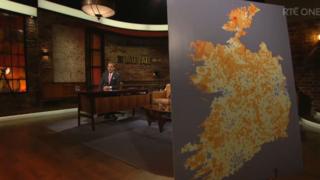 Irish national broadcaster RTÉ has apologised for cutting Northern Ireland out of a map on an episode of The Late Late Show.
Presenter Ryan Tubridy was talking to Dr Eva Orsmond about the correlation between location and mortality on 1 September.
The omission prompted more than 200 complaints, the Irish News reports.
RTÉ said the map, provided by a third party, "was not a geographical or political one, but a data map".
However it added that the map "appeared to many as a geographical map and as such appeared disrespectful and distressing".
Mark H Durkan MLA said he was deeply offended by the map which depicted the island of Ireland with Northern Ireland missing.
Sinn Féin's deputy leader Mary Lou McDonald called the map an "aberration".
Executive producer John McMahon apologised for the "upset caused to viewers both there and in the Republic".
RTE said the blue in the map referred "to income status, not rivers or lakes as is normal".
In a letter to complainants explaining the omission, RTÉ said the map reflected information gathered from the census carried out in the Republic of Ireland in 2016.
"As such it did not contain any data relating to the six counties and therefore that section of the map was blank," said the broadcaster.
It said the graphic was "important" to show areas across the 26 counties where "social inequality and deprivation are having a serious impact on the life and life expectancy of communities".
Mr McMahon said: "I fully accept that as presented, the map appeared to many as a geographical map and, as such, appeared disrespectful and distressing to you and other viewers.
"All I can do is assure you that it was not an intentional slight on our audience north of the border and I apologise for the upset caused to viewers both there and in the Republic."