Mid-Ulster council in row over dual language street signs
By Jayne McCormack
BBC News NI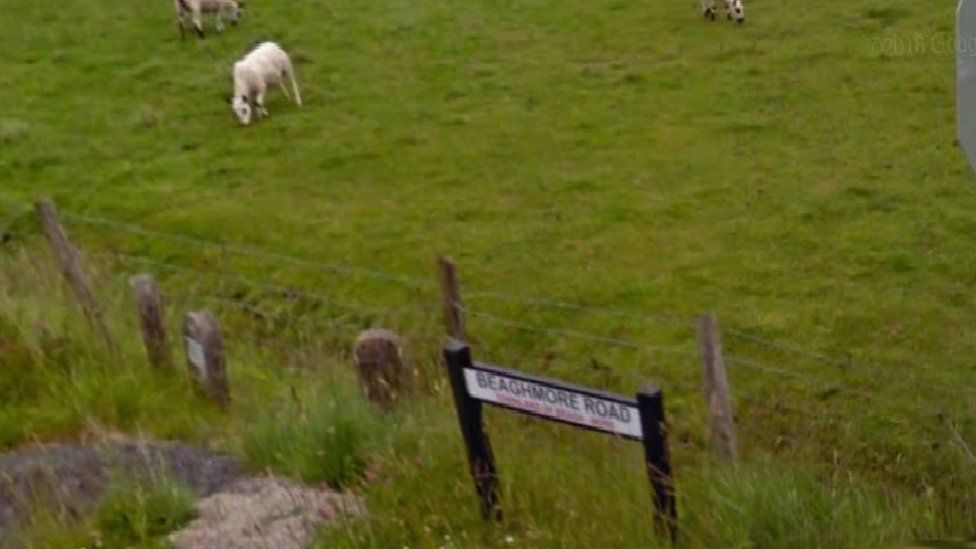 A row has erupted at Mid-Ulster District Council over the running of its dual-language street signs scheme.
At the council's environment committee meeting on Tuesday, DUP councillor Clement Cuthbertson suggested residents who apply should pay for the signs themselves.
The proposal, however, was rejected by a majority of the committee.
The policy, which was adopted in March 2017, states that if a resident wants to have a bilingual street sign, they can apply to the council, who then send out ballots to every home in the street.
If a majority of returned ballots are in favour of the change, the council will put the new Irish and English sign in place.
The meeting marked the approval of the first applicant to the scheme - despite objections from DUP members of the committee.
Mr Cuthbertson accused the council of following "the route of non-inclusive politics" and said the dual language street signs scheme had been "forced on the minorities in Mid-Ulster".
He told BBC News NI he had asked council officers for a breakdown of the scheme's cost, but was told that this was not available.
"I stated that this was not good value for money for all the residents of Mid-Ulster and proposed that a financial contribution be sought from the residents requesting this signage, and that failing this we don't proceed," said Mr Cuthbertson.
"Regrettably, yet again, as is now the norm in Mid Ulster, the decision was forced through."
SDLP councillor and deputy chairman of the environment committee, Malachy Quinn, told BBC News NI the scheme was a "fair system" and that dual-language street signs would not be forced on anyone who does not want them.
"This does not have anything to do with saving costs, this was a chance for the DUP to shore up their own support to oppose the sign simply because it was Irish," he said.
"Unionists are a minority in Mid-Ulster but through the last three years, the SDLP has worked with the DUP and the UUP on a range of issues."
Mr Quinn also rejected Mr Cuthbertson's claim that the council was following "non-inclusive politics", and said the DUP was itself engaged in "combatant politics".
"The DUP want to be seen as opposing Irish, and this was all an attempt to whip up anti-Irish sentiment," he added.