Car crash victim's anger after brain trauma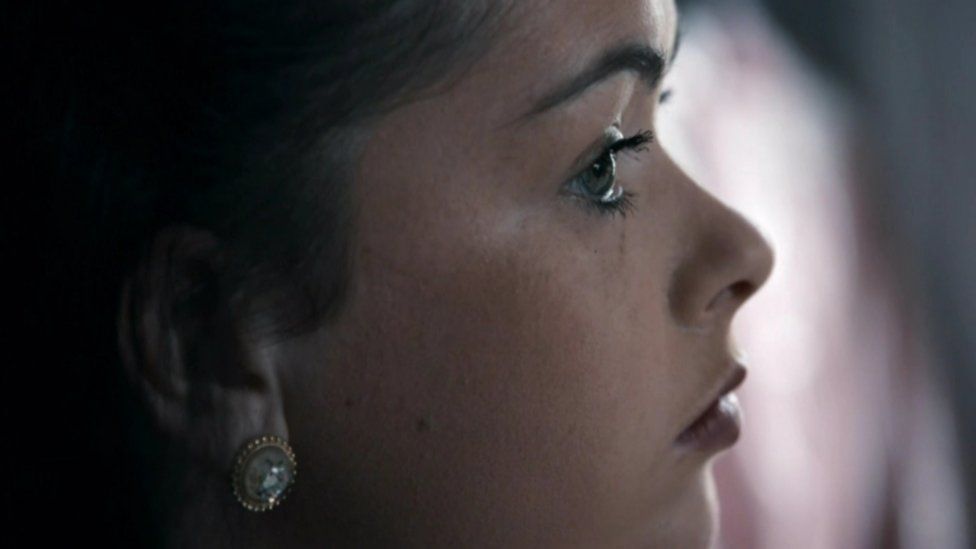 A young woman has described her anger after a high-speed car crash left her with a serious brain injury.
Clodagh Arbuckle was critically injured in the crash near Ballycastle in April 2015, which left two men dead.
Johnny Black, 19, and Robin Wilson, 26, were killed in the collision.
Clodagh told the BBC how the trauma of the crash has affected her.
"Life was perfect, everything was going to plan," she said.
"It was all grand and then I've just got a big blur when that happened to me because I can't remember anything I did before the crash.
"It just makes me very, very angry".
Clodagh's father, Liam, described following behind the ambulance that was carrying his critically ill daughter to hospital in Belfast.
"She just continued to keep fighting and luckily she came out of her coma about a fortnight later. It was every parents' nightmare - my wee girl, my oldest - you've no control, no power," he said.
"She has severe mood swings so she can go from one extreme to another extreme. She has also lost part of her mental age," he added.
Liam says Clodagh told him she got out of the car after the crash, but met her grandfather, who told her to go back and wait for the firefighters and ambulance to rescue her.
"That was her granda, Frank, and he's been dead several years, so we're thinking that maybe Clodagh was on her way to wherever and he sent her back."
Clodagh was a passenger in Johnny Black's car at the time of the crash.
His parents, Maureen and Seamus, spoke of a sense of devastation following their loss.
They can see the crash site from their house.
"I thought I wouldn't be able to live with it at the start," said Maureen. "My immediate reaction was just 'We'll leave'. Now I'd feel if I was leaving here I would be leaving part of Johnny".
At Shane Kinney's trial, the judge said Johnny was not to blame for the collision.
"Johnny Black was entirely innocent and bore no responsibility for what occurred," he said.
Looking at childhood photographs of his son, Seamus Black remembers how close they were.
"I've a lot to be proud of. I don't want to forget him. Why would I? He was my best friend," he says.
The Arbuckle and Black families spoke to the BBC as part of a two-part television series on the work of the PSNI Collisions Investigation Unit.
Crash will be broadcast at 21:00 BST on Wednesday on BBC1 Northern Ireland.