Hightown waste incinerator given planning permission
By Julian O'Neill
BBC News NI Business Correspondent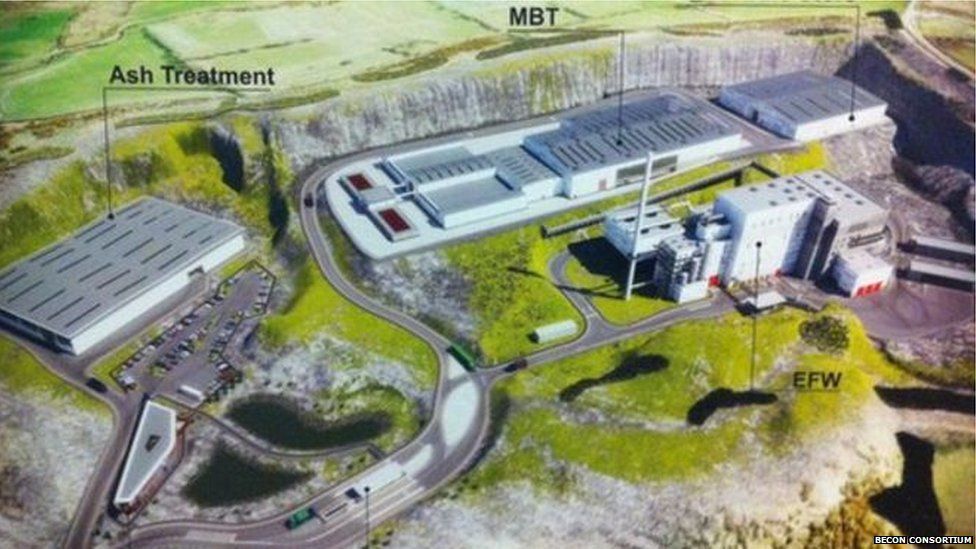 A £240m waste incinerator facility in County Antrim has been given planning approval - in the absence of a minister - by the Department for Infrastructure.
The department has now agreed, saying it was "in the public interest to make the decision without further delay".
The Department for Infrastructure took over planning responsibilities in the re-organisation of Stormont departments and its minister has the final say on major applications.
In a statement, Arc21 said: "The proposed facilities will help bring the region into line with European best practice, significantly reduce our over-reliance on landfill, enhance recycling rates and help tackle illegality in the waste sector.
"Representing an investment of £240m, it is one of Northern Ireland's largest infrastructure projects with considerable economic benefits."
Colin Buick, chair of the No Arc21 campaign which opposes the incinerator, said news of the planning approval came out of the blue, but that his group was already planning a legal challenge.
"It would be our intention that we'll be taking the legal route - a judicial review," he said.
All five of Northern Ireland's main parties have criticised the decision.
Ulster Unionist MLA Steve Aiken said: "This decision was for an elected politician to take, not an unelected, unaccountable civil servant. It is outrageous that such a decision has been made at this time."
Sinn Féin's Gerry Kelly said it was "a disgrace" and "will have serious environmental, health and safety issues for the area".
In a tweet, DUP MLA Pam Cameron described it as "devastating news for the greater Mallusk community", adding that the facility was neither wanted, nor needed.
The SDLP's Nichola Mallon said: "Despite the unanimous political opposition to the plans, the current political vacuum has enabled this decision to go through unchallenged."
David Ford of the Alliance Party said it was "frustrating and disappointing" for all who campaigned to stop it.
Steven Agnew, leader of the NI green Party, said he was appalled by the decision.
The facility plans to deal with black bin waste from six super councils.
It has been controversial from the start with residents of Glengormley opposing it because of concerns about traffic and the effect on property prices.
More than 3,500 objections were lodged when the planning application was first made.
The Department of Infrastructure said it took the decision to approve the plan having "carefully considered and agreed" with the PAC report.
"It is clear from all the evidence presented in the planning application and debated at the PAC that there is a demonstrable need for this development," it said.
"Northern Ireland needs new infrastructure in order to support a resource-efficient, self-sufficient, legitimate system of waste management."