Tiesto gig attack: Teenager issues appeal to find attackers
By Kevin Sharkey
BBC News NI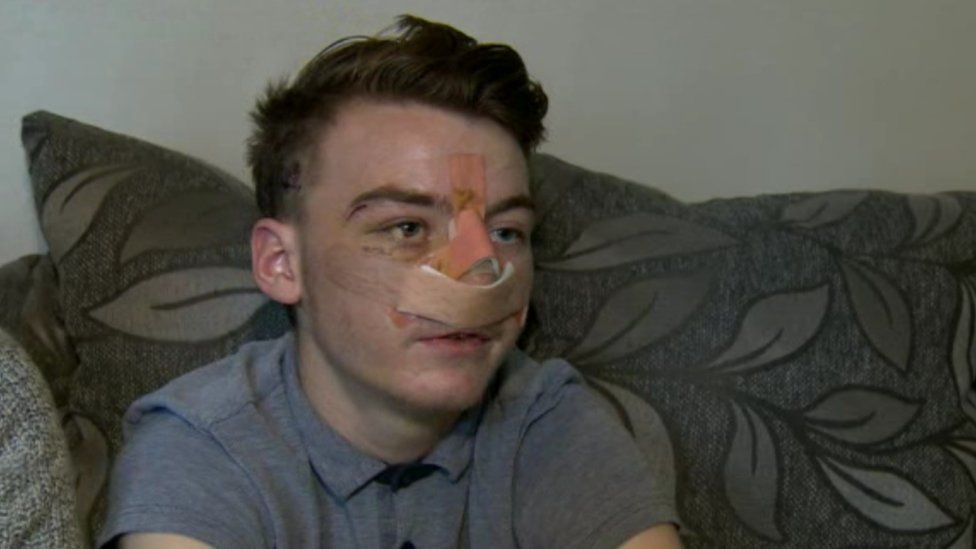 Jason Tuite had surgery for serious injuries following the attack last month. The police believe the teenager was assaulted by five men.
The Dundalk schoolboy travelled to the outdoor performance by the DJ, Tiesto, at Boucher Road playing fields.
He was initially attacked by a teenager who was standing on the step of a bus.
The teen made a remark about Jason's girlfriend, and Jason said he asked him: "What are you at?"
"He was like, what are you going to do really? Then he swung the kick. Then all his buddies jumped in.
"They just battered me, six of them."
The attack happened about midnight on Saturday, 26 August.
Jason managed to stay on his feet until he got kicked and fell to the ground during the five-minute attack. It was at this point that "they laid off," he said.
He has been attending hospital regularly since the attack.
His father, Kevin, told the BBC: "His cheek was shattered, he'd two holes in his eye socket, had to get steel plates top and bottom, his nose is broken and serious groin injuries.
"It was a vicious attack."
Mr Tuite said the driver of the bus may be able to help find his son's attackers.
"Hopefully, the bus driver will come forward," he said.
"He saw it, from what we heard the bus driver actually tried to intervene at one stage, so he knows who he is."
The police are looking for five people who are believed to be have been involved in the assault.
They are trying to get information about one youth who was standing on the steps of a white bus just before the assault. .
He is thought to be in his late teens with short, dark hair and was wearing denim shorts and no top.
Jason Tuite's mother, Kay, says her son's attackers must be brought to justice to protect other young people.