NI 'on glide path' to government intervention, says Brokenshire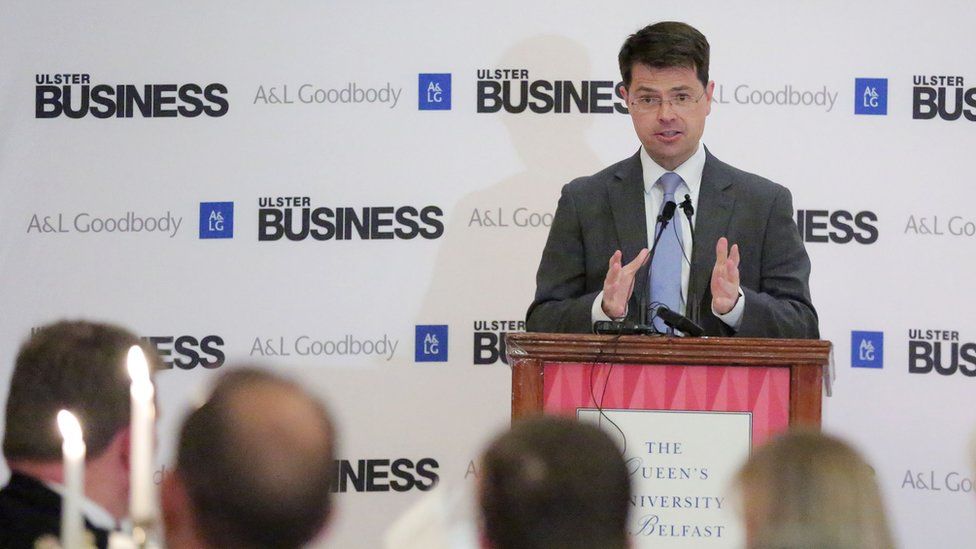 Northern Ireland will be on a "glide path" to greater government intervention in its affairs if power-sharing is not soon restored at Stormont, James Brokenshire has said.
In a speech in Belfast on Thursday night, the Northern Ireland secretary warned parties that time is running out to strike a deal on devolution.
He said Westminster is ready to step in if the Democratic Unionist Party (DUP) and Sinn Féin cannot make an agreement.
Their deadlock has lasted for months.
The Northern Ireland Executive collapsed in January and the most recent round of formal talks between the parties ended in stalemate in June.
At a business event at Queen's University, Mr Brokenshire reiterated that only a "short window of time" remains in which the parties must reach an agreement.
"If this does not happen within a short number of weeks," he added, "we risk greater political decision-making from Westminster, starting with provision for a 2017-18 Budget this autumn."
That, he said, is "not what anyone wants" and "would profoundly be a step back, not a step forwards".
"But in the continuing absence of devolution the UK government retains ultimate responsibility for good governance and political stability in Northern Ireland.
"We will not shirk from the necessary measures to deliver that.
"If things don't change we are on a glide path to greater and greater UK government intervention."
Among the main sticking points in the talks is Sinn Féin's demand for legislation to give official status to the Irish language.
The executive broke down over several issues in January, with the DUP and Sinn Féin since blaming each other for the failure to restore devolution.
'Government's top priority'
In his speech, Mr Brokenshire also emphasised the government's support for Bombardier - Northern Ireland's biggest manufacturing employer - in its trade dispute with a rival firm.
The Canadian aircraft firm is facing a complaint from Boeing that it has engaged in anti-competitive practises.
Mr Brokenshire said: "It is a top priority for this government to safeguard Bombardier's operations and its highly skilled workers in Belfast.
"Ministers across government have engaged swiftly and extensively with Boeing, as well as the US and Canadian governments on this case.
He said the government wants Boeing to drop "what we see as an unjustified case".